AMD has formally announced new Ryzen Z1 and Ryzen Z1 Extreme processors designed for "handheld PC gaming consoles," like the upcoming ASUS ROG Ally, which will use the Ryzen Z1 Extreme. This is great news for the future of portable PCs as gaming consoles and will undoubtedly lead to several new devices in the coming years that will deliver incredible results.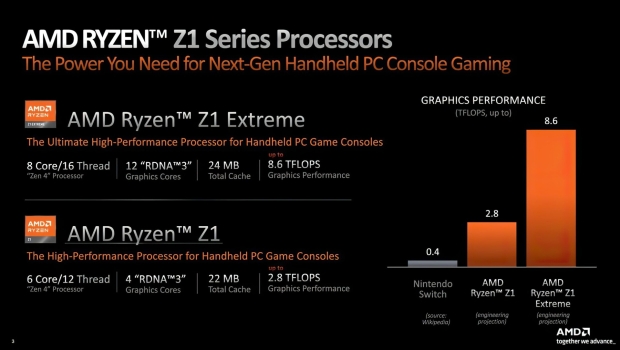 With AMD RDNA 3 architecture-based graphics and "Zen 4" processing, the Ryzen Z1 Extreme features 8 cores and 16 threads with 12 AMD RDNA 3 Compute Units and 24 MB of cache. The baseline Ryzen Z1 features 6 cores and 12 threads with 4 AMD RDNA 3 Compute Units, and 22 MB of cache.
The Ryzen Z1 Extreme sounds particularly impressive, with AMD noting that it can deliver up to 8.6 TFLOPS of graphics performance - more than the AMD hardware found inside the PlayStation 4 Pro and Xbox One X. Designed for portable gaming handhelds that feature 1080p displays AMD has released the following in-game benchmark results for the Ryzen Z1 Series.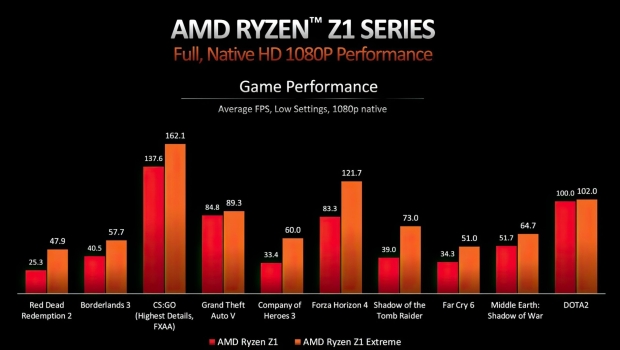 And, yeah, it's impressive stuff for an all-in-one low-power solution. These native 1080p results can further be boosted using AMD Radeon Super Resolution.
In addition to full Windows 11 support via AMD Software: Adrenalin Edition and all current Radeon-based visual technologies, the Ryzen Z1 series also supports USB4 for external storage and display devices and the latest LPDDR5 and LPDDR5X memory.
"At AMD, we're continually advancing the next generation of gaming experiences, from consoles to desktops to on-the-go handheld devices," said Jason Banta, corporate vice president and general manager, Client OEM at AMD. "Ryzen Z1 processors deliver gamers an elite gaming experience and extreme portability in exciting gaming form factors."
Although battery life will always be a concern regarding portable Windows, AMD notes that the Ryzen Z1 Series is equipped with "smart power management technology" to ensure that apps and gaming perform as expected.