Over at Videocardz.com, leaked images and info outlining performance and benchmarks for the GeForce RTX 4070 (presumably the Founders Edition) have appeared, confirming that overall performance without DLSS 3 and Frame Generation is on par with the GeForce RTX 3080.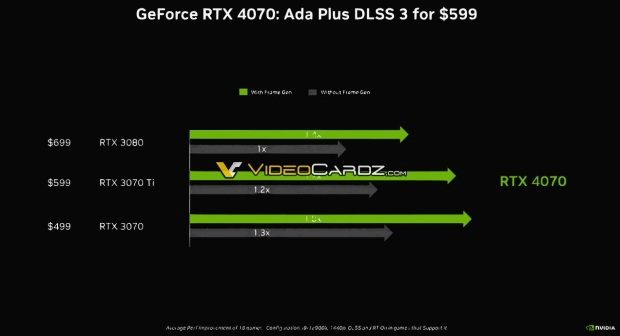 The same slide also confirms that "Without Frame Gen" performance is 1.2X faster than the GeForce RTX 3070 Ti and 1.3X faster than the GeForce RTX 3070. According to the source, these official numbers from NVIDIA include DLSS 2.
The overall byline from NVIDIA for the new GeForce RTX 4070 is that the card will deliver 100+ fps performance at 1440p with ray-tracing and DLSS 3 enabled. It makes sense that official benchmarks and info from NVIDIA would focus on the brand-new GeForce RTX 40 Series exclusive DLSS 3 technology - it did the same when it came to the RTX 4090, RTX 4080, and RTX 4070 Ti.
The leak also includes a detailed 1440p gaming chart. The quality is low, but most benchmarks feature games with Frame Generation enabled. It's not a like-for-like comparison as previous generation GeForce RTX cards do not feature the new AI hardware to support Frame Generation. Comparing the RTX 4070 performance to the RTX 3070 Ti and the RTX 2070 SUPER does give an overall view of what to expect.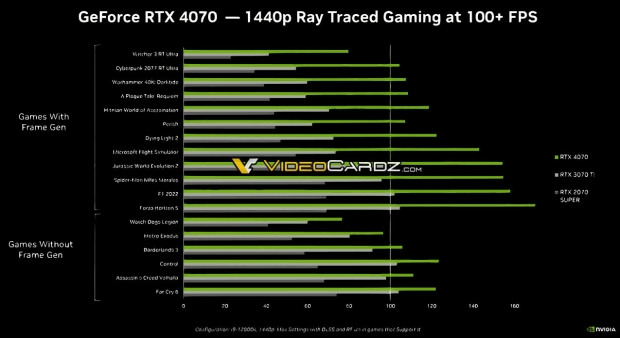 The "Games Without Frame Gen" portion of the chart shows a more linear increase in performance, which will be the focus for most of the reviews reported to drop this week. Again, as the quality is low, it's hard to see the exact numbers, but it does look like the 1.2X increase over the GeForce RTX 3070 Ti is accurate.
On that note, it will be interesting to see if the RTX 4070 performs the same as the RTX 3080, as the new Ada card is set to feature a power rating of 200W compared to the RTX 3080's 320W.
And to add a little more fuel to the RTX 4070 action happening this week, Twitter user David Giannis responded to Videocardz.com's different story showcasing the look of the GeForce RTX 4070 Founders Edition with a couple of photos of the GeForce RTX 4070 Founders Edition. It looks slick.