Cyberpunk 2077's Ray Tracing: Overdrive Mode is set to arrive this week in technical preview form, bringing full path-traced lighting to the game. Going hands-on with the build and an NVIDIA GeForce RTX 4090, tech channel Digital Foundry has released a new video showcasing the difference it brings.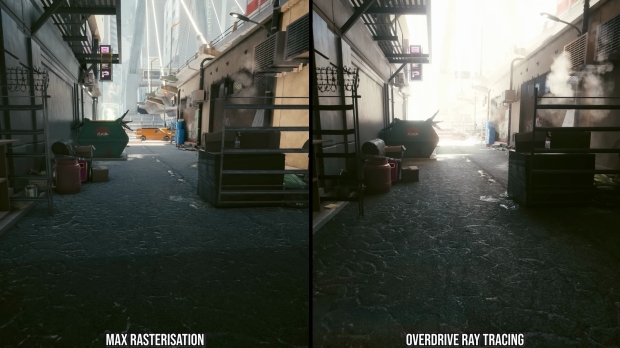 The video features footage from the game without ray-tracing, with the game's current (technically demanding) RT Psycho Mode and the new Overdrive Mode.
The difference between the existing Cyberpunk 2077 ray-tracing and the new Overdrive mode proves to be the most interesting, as it provides a good look at what full path-traced lighting can bring to a game.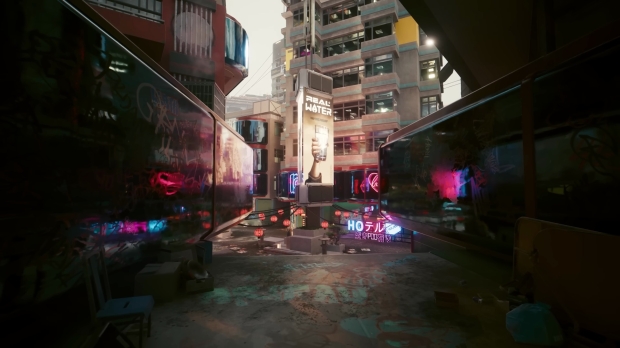 And that is visuals with a real cinematic quality where indoor and outdoor scenes look stunning. With Digital Foundry gaining access to the mode from the developer's CD Projekt Red, we also get a little visual breakdown of what's happening. The existing RT Psycho mode uses a mix of rasterized lighting with ray-traced reflections, ambient occlusion, shadows, and emissive lighting. The new Overdrive mode introduces RTXDI for all direct lighting and global illumination for indirect lighting - all path-traced.
One of the significant changes this brings is that all emissive lights in Cyberpunk 2077 now cast realistic shadows, which Digital Foundry describes as "unheard of," even in titles that use ray-traced shadows. The shadow detail even extends to the muzzle flash from firing weapons and car lights, which looks incredible in motion. How this interacts with the path tracing is impressive, it gives many locations and scenes in Cyberpunk 2077's Night City a new and more realistic look.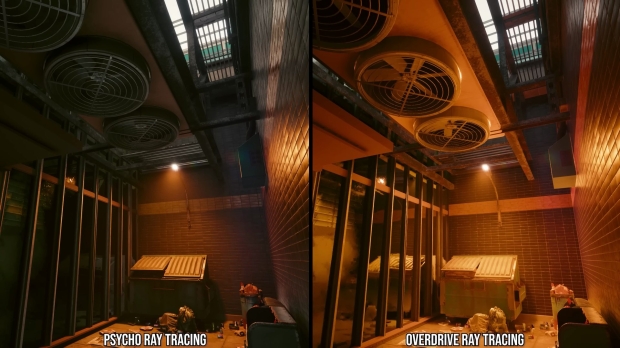 Of course, this comes at a performance cost, even on the RTX 4090. Cyberpunk 2077 is already one of the most technically demanding titles out there, and we see an indoor scene running at 48 frames-per-second in native 4K without any ray-tracing. With the new Overdrive Mode, this drops to 18 frames-per-second. As a technical preview, this is a glimpse at the future of games and not something we're likely to see adopted in a big way.
This is where DLSS 3 comes in, which can dramatically improve performance in the indoor scene with Overdrive enabled up to 95 frames-per-second on the RTX 4090 in DLSS Performance mode. And with a performance montage of Cyberpunk 2077 Overdrive Mode footage, we see a DLSS 3 frame rate hovering between 90-110 fps.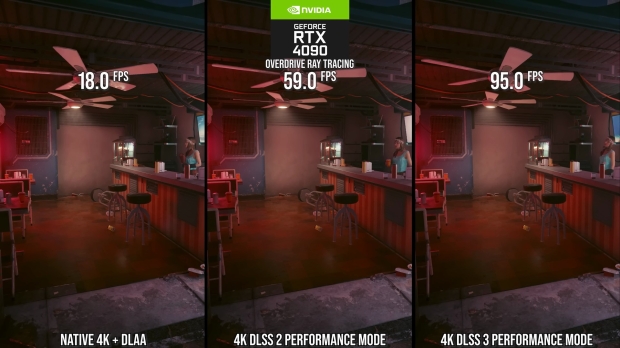 For high-end GeForce RTX 40 Series owners out there, those with either an RTX 4080 or RTX 4090, Cyberpunk 2077's Ray Tracing: Overdrive Mode should definitely be at the top of your list of games to play or replay.