Images snapped by NASA and the European Space Agency's (ESA) Hubble Space Telescope have led to the discovery of what could be the biggest black hole known to date.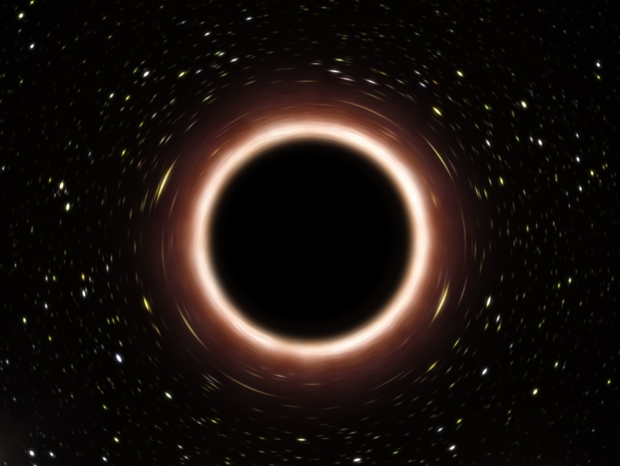 The team of astronomers analyzed images snapped of the Abell 1201 galaxy cluster by the Hubble Space Telescope and, from those images, used gravitational lensing to magnify the background objects. Notably, gravitational lensing is a phenomenon that occurs when the gravity of an object bends the light that is passing through it, causing a magnification effect. Astronomers commonly use this natural phenomenon to see much further into the cosmos than they could if they were exclusively using human-made telescopes such as Hubble.
Using gravitational lensing, astronomers were able to spot the giant black hole in the background of one of Hubble's images. According to statements from the astronomers, this black hole has an estimated mass of approximately 30 billion suns and is one of, if not the largest black hole ever discovered. Astronomers made these conclusions after simulating how much light was bending around the foreground galaxy and analyzing the gravitational lensing magnification. Before arriving at their conclusion, researchers tested the size of thousands of black holes and eventually found a solution to what they were observing.
"This particular black hole, which is roughly 30 billion times the mass of our sun, is one of the biggest ever detected and on the upper limit of how large we believe black holes can theoretically become, so it is an extremely exciting discovery," said James Nightingale, an astrophysicist at Durham University in the U.K. and lead author of the new study.
Notably, the enormous black hole is the first to be detected using this method. According to the study, which was published in the journal Monthly Notices of the Royal Astronomical Society on March 29, the ultramassive black hole is not very active, which means that it's not pulling in and engulfing matter from its surrounding area. Researchers explained that most black holes that are detected are in a state of activity as active black holes continuously pull matter towards their center, which forms a disk that heats up under the gravitational pressure and releases energy in the form of X-rays and radiation.
This release of energy makes them much easier to detect than black holes that aren't active or have very minimal activity. However, with gravitational lensing and the method outlined by astronomers behind the study, researchers can begin identifying and studying more inactive black holes in distant galaxies that will unlock knowledge about the evolution of the universe and how black holes play a role in it.
In other space news, NASA's Hubble Space Telescope has been used to snap a beautiful photograph of a distant globular galaxy and an object that's unclassifiable. If you are interested in reading more about either of those stories, check out the links below.