NASA has taken to its blog to announce that a study has been conducted on what is being described as the "brightest of all time" explosion that recently hit the solar system.
The space agency writes that on October 9, 2022, a pulse of intense radiation known as a gamma-ray burst (GRB) passed through the solar system and that this wave, which is known as the most powerful type of explosion in the universe, blinded NASA's eyes in space. NASA writes that the event named GRB 221009A was so bright that it effectively blinded most gamma-ray instruments in space, which means that NASA was unable to detect the true intensity of the explosion.
However, the space agency says that researchers were able to reconstruct the data from NASA's Fermi Gamma-ray Space Telescope and compared their results against data being worked on by teams of researchers in China and Russia. NASA writes that research suggests an event such as this occurs once in every 10,000 years and that it was 70 times brighter than any other GRB humans have detected yet. So, where did it come from?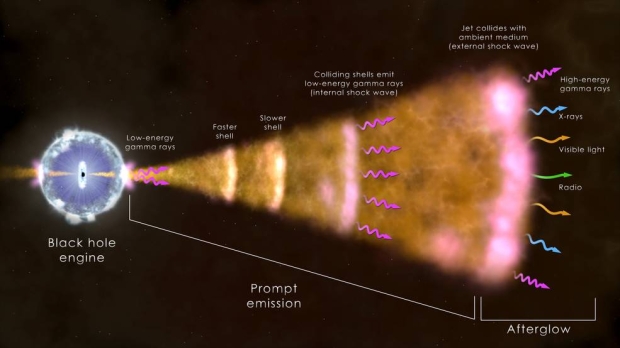 According to the space agency, BOAT, the nickname for the recent GRB, the brightest of all time, had been traveling for 1.9 billion years before it passed through our solar system. Notably, BOAT is classified as a long GRB, as its emission lasted more than two seconds. So, where do they come from? According to NASA, astronomers' general consensus is that these extremely powerful explosions represent the "birth cries" of black holes forming following the core of a dying star collapsing under its own weight.
"GRB 221009A was likely the brightest burst at X-ray and gamma-ray energies to occur since human civilization began," said Eric Burns, an assistant professor of physics and astronomy at Louisiana State University in Baton Rouge.
Throughout this implosion and transformation, matter surrounding the star is ingested, causing two jets of high-speed particles to blast out of the black hole at opposite ends. These particles are shot into space at speeds close to the speed of light, emitting X-rays and gamma rays as they travel for billions of years. Typically, when a GRB such as this is detected, astronomers expect to detect a supernova, the beginning of the dying star's transformation into a black hole. However, astronomers are yet to detect any supernova following the BOAT's arrival.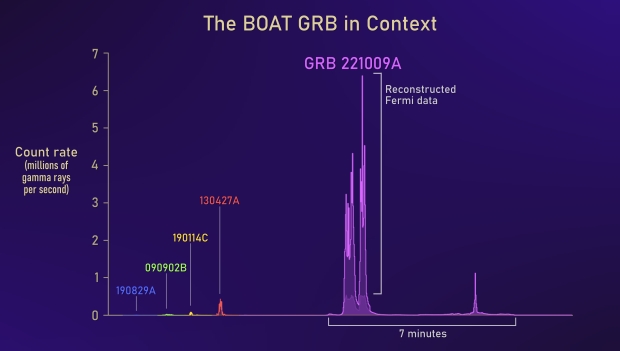 Andrew Levan, a professor of astrophysics at Radboud University in Nijmegen, Netherlands, explained that it's possible that when the star collapsed, it immediately transformed into a black hole, meaning that no supernova took place. To investigate this, Levan has led near- and mid-infrared observations using NASA's James Webb Space Telescope - its first use for this kind of study - as well as the famous Hubble Space Telescope to look for the supernova. So far, it remains elusive, but more observations are planned with both Webb and Hubble over the coming months.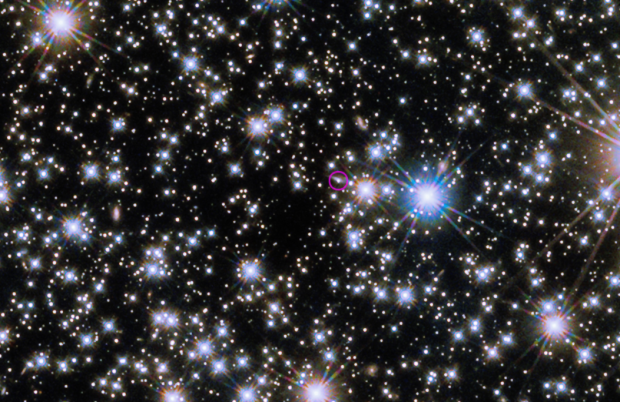 In other Hubble Space Telescope news, NASA and the European Space Agency's (ESA) famous telescope has snapped yet another jaw-dropping image. If you want to check that out, visit the link below.