Hubble has snapped a new image that has recently been released of a mysterious object located approximately 390 million light years away from Earth. This object is called Z 229-15.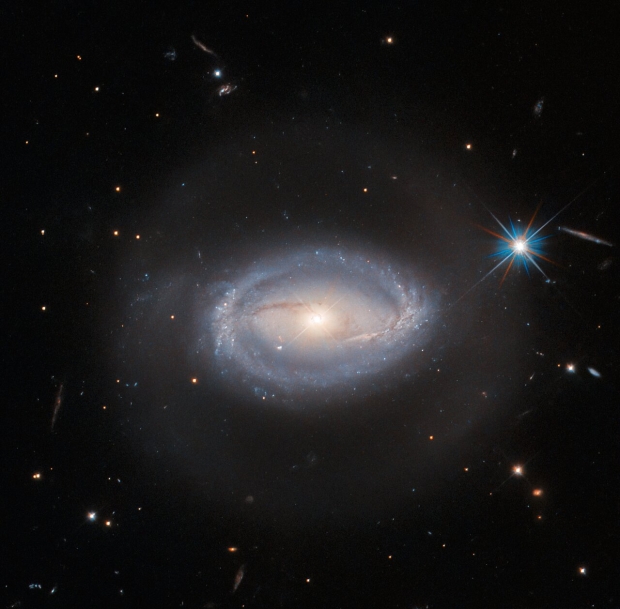 Z 229-15 resides in the constellation Lyra, and according to a blog post by the European Space Agency (ESA), the more researchers look into Z 229-15, the more difficult it becomes to classify it. According to the blog post, Z 229-15 falls into a special category of celestial object that fits multiple definitions at once. As the ESA writes, researchers have classified Z 229-15 as a galaxy but also an AGN, an active galactic nucleus. A galaxy is given this classification when it harbors an active supermassive black hole at the galaxy's center.
The powerful gravitational pull of the supermassive black hole pulls large amounts of matter toward it, forming a disk around the black hole that emits a bright light across the electromagnetic spectrum when it's heated up. The definitions or classifications don't stop there, as Z 229-15's AGN is also a quasar, which astronomers label as a specific subtype of AGN, that is only given to a galaxy when it displays an extreme level of brightness over a very long distance. Since Z 229-15 is located 390 million light-years away from Earth and Hubble's image showcases an extremely bright center, Z 229-15 fits this classification also.
Furthermore, it's typical that quasar galaxies are so bright that they drown out the light of any other surrounding celestial objects, but when a quasar isn't that bright and surrounding stars can be seen, they are called Seyfert galaxies. As showcased in the above image snapped by NASA and the European Space Agency's Hubble Space Telescope, Z 229-15 is also a Seyfert galaxy. With all that being said, Z 229-15 is, technically, a Seyfert galaxy with a quasar-subclass AGN.
Due to this multitude of classifications, the ESA writes in its blog that Z 229-15 is nicknamed "Everything, in one place, all at once", which refers to the 2023's Academy Awards Best Picture winner "Everything, Everywhere, All at Once", directed by Daniel Kwan and Daniel Scheinert.
Despite Hubble's age of more than 30 years old, the legacy telescope still continues to impress with new photographs of the cosmos. It was only recently that Hubble shocked eyes around the world with a new image of a globular galaxy known as Messier 55. This galaxy is located 20,000 light years from Earth and is estimated to contain 100,000 stars of 55 various types and brightness. If you are interested in reading more about that story, check out the below link.