Update 3/31: It turns out GIGABYTE made a mistake in its press release here, and the rumored 2023 launch isn't happening.
(Original story follows below...)
AMD's Zen 5 processors are much anticipated and could turn up sooner than we thought - later this year, in fact.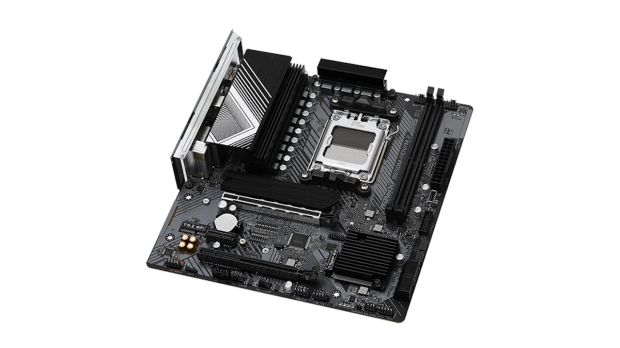 GIGABYTE made the revelation in a press release on the subject of AMD Ryzen-powered servers, but as ever with leaks like this, we must be skeptical.
On the face of it, though, the press release couldn't sound any surer that Zen 5 chips are due later in 2023, arriving on the AM5 chipset (the one used by current Zen 4, or Ryzen 7000, products).
GIGABYTE writes:
"The next generation of AMD Ryzen desktop processors that will come out later this year will also be supported on this AM5 platform, so customers who purchase these servers today can upgrade to the Ryzen 7000 series successor."
We already knew that Zen 5 - presumably the Ryzen 8000 range - would stay on the same platform as Zen 4, of course, meaning consumers (and businesses) can simply upgrade PCs by dropping one of the next-gen CPUs into the same motherboard.
Previously, though, we believed that Zen 5 processors weren't due until 2024, and that's not chatter from the grapevine, but the last timeframe mentioned on AMD's CPU roadmaps.
So it seems that Lisa Su and company are stepping up a gear, and pushing to have Zen 5 released before 2024 rolls around. Either that, or GIGABYTE has got crossed wires when communicating with AMD about the delivery schedule for Zen 5 silicon, or a mistake has been made somehow.
At the time of writing, though, the press release is still visible online and has yet to be changed, which at least suggests that GIGABYTE believes it is accurate.
How likely is this to happen, really?
Zen 5 is already causing excitement at how much faster this series may be compared to current Ryzen 7000 models. The next-gen CPUs will be built on TSMC's 3nm or 4nm process, and the expectation is that this may deliver a huge leap in performance.
How big? Previous rumors have suggested in the order of 20% or maybe more (namely RedGamingTech on YouTube, though you'll need more than a pinch of seasoning with that claim).
At any rate, given that AMD is only just getting Ryzen 7000 X3D chips out the door - indeed the 7800X3D is yet to arrive still, and will be here on April 6 (maybe with a relatively eye-watering price tag) - is it realistic that six months or so later, an entirely new generation of Ryzen silicon will debut?
It feels like a push for this to be true, in all honesty, and if it was, we'd expect to be hearing more concrete leaks about Zen 5's spec and grittier details at this stage. We remain unconvinced, then. A further possibility could be that GIGABYTE is referring to a refresh here, a Zen 4+ launch, perhaps?
If AMD really does have Zen 5 ready to roll before the year is out, that could be quite a blow to Intel. While Team Blue has been faring well in the war of the CPUs since introducing its hybrid architecture (a mix of performance and efficiency cores) with Alder Lake, all that's due this year is a Raptor Lake refresh.
At least a simple refresh of Raptor Lake is one theory that seems to have overtaken the other rumor of a Meteor Lake launch for desktop CPUs in 2023, but without high-end (Core i9) models.
Ultimately, there seems to be an unusual amount of confusion regarding what Intel's planning for its next iteration of Core CPUs, and we don't take that as a good sign. At any rate, whichever way you dice it, the rumors don't sound all that promising: either somewhat hamstrung Meteor Lake desktop offerings, or a plain old Raptor Lake refresh.
The danger for Intel is that this is rather leaving the door open for an AMD comeback, if Team Red can bring the big Zen 5 guns to bear against that kind of opposition later this year.
After having fought so well to turn back the 'Ryzen tide' in the CPU arena with Alder Lake and Raptor Lake - which was no mean feat - Intel surely does not want to lose momentum or, worse still, end up in reverse gear in desktop processor territory with the next-gen battle.