The PowerColor Liquid Devil Radeon RX 7900 XTX is now available with a steep MSRP of USD 1499. But, with that, you've got AMD's flagship RDNA 3 offering with high-end water cooling designed for extreme overclocking.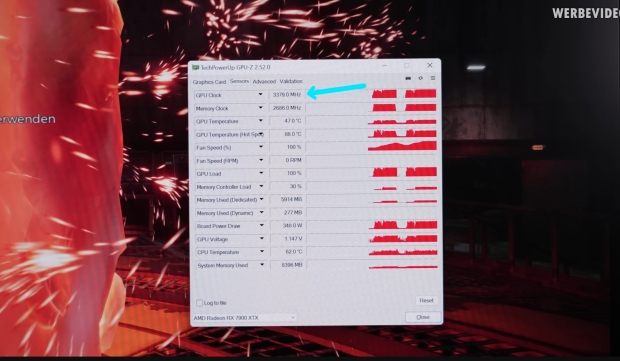 And that's precisely what renowned overclocker Roman "der8auer" Hartung has done, with his latest video putting the PowerColor Liquid Devil Radeon RX 7900 XTX to the test. And yeah, as per the headline, the GPU clocks can be pushed as high as 3.2 GHz - though the result is a power draw of 650W.
As a custom GPU the PowerColor Liquid Devil Radeon RX 7900 XTX features three 8-pin connectors, a new 14-layer high TG PCB, a 17-phase VRM design, and a 2+2 phase for the 24GB VRAM. It's the sort of build designed not only for extreme overclocking without the need to go the liquid nitrogen route but also unlocking the full potential of Navi 31 and the flagship RDNA 3 GPU.
The card ships with a 420W "Unleashed" mode that pushes the clock speeds to 2.68 GHz, with some manual tinkering via MSI Afterburner. Being "der8auer" means going to the next level using the ElmorLabs EVC2SE device for manual voltage control to see how far the GPU can go. With the default voltage of 1.03V pushed to 1.05V, the card goes beyond 3.0 GHz.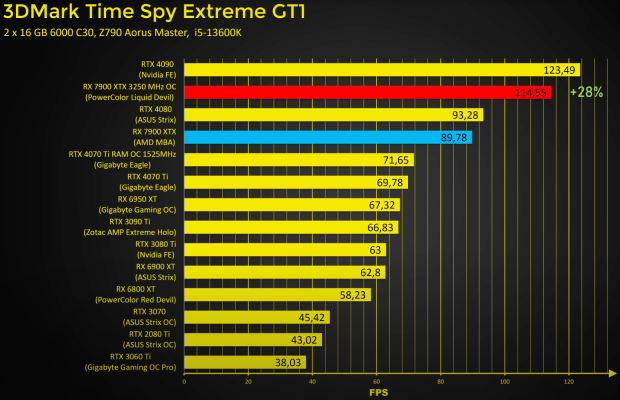 Pushing the voltages to 1.142V and clock speeds of 3.25 GHz, we can see the card clearing a 3DMark TimeSpy Extreme test with an impressive Graphics Score. We also see the power consumption go as high as 650W - which doesn't include the power derived from the PCIe slot. The result is roughly 28% of extra performance in testing compared to the reference Radeon RX 7900 XTX, but with over 80% more power being used.
An impressive achievement. But as with most things overclocking, it's not a practical one.