With DDR5 memory becoming a mainstay in the desktop space, especially for new builds, the next-gen high-speed memory is also making waves in the laptop gaming market. And with that, TEAMGROUP has launched a new range of high-performance DDR5 memory specifically for laptop gaming with its new T-FORCE VULCAN SO-DIMM DDR5 Memory range compatible with 13th Gen Intel CPUs.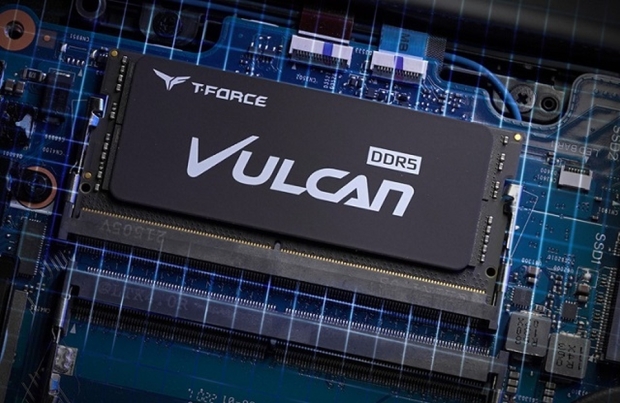 And these kits are fast, with max clock rates of 5,200 MHz with cooling delivered via an ultrathin graphene heat spreader. This alone makes installation a breeze (as much as it can be regarding gaming laptops), offering up improved speeds and cooling.
Capacities for the kits go up to an impressive 64GB too, which makes these an excellent option for high-end design and content creation in addition to playing the latest games. Kits will be available in 16GB and 32GB capacities.
Another interesting feature is that the T-FORCE VULCAN SO-DIMM DDR5 Memory range requires less power than DDR4 memory, running at 1.1V versus 1.2V. More battery life, especially for gaming laptops, is worth its weight in gold. And with the improved power efficiency of the GeForce RTX 40 Series laptop range, we're actually at a point where increased performance is arriving alongside increased efficiency.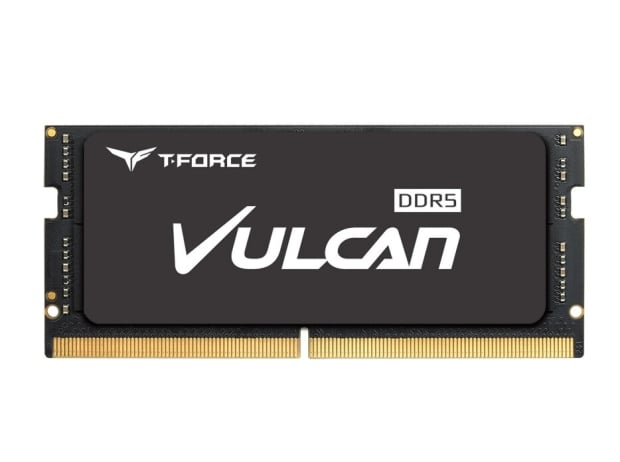 T-FORCE VULCAN SO-DIMM DDR5 Memory also supports on-die ECC for error detection and correction and a lifetime warranty. If you've seen or are using T-FORCE DDR5 desktop memory, you'll know that the brand has a great reputation for PC gaming.
The first global shipments are expected in late April, with pricing still TBC.
Here are the full specifications for the new memory range.
Module Type: DDR5 262 Pin Non-ECC Unbuffered DIMM

Frequency: 5200

Latency: CL38-38-38-84

Capacity: 16GB / 16GBx2 / 32GB / 32GBx2

Data Transfer Bandwidth: 41,600 MB/s (PC5 41600)

Voltage: 1.1V

Compatibility: Intel 13th Laptop

Dimensions: 30(H) x 70(L) x 3.7(W)mm

Heat Sink: Graphene-metal composite

Warranty: Lifetime warranty