Q4 2022 could have been a better time for PC monitor shipments, with a new report by IDC outlining that shipments contracted by over 18% year over year. The 30.5 million units this represents is the lowest fourth quarter result since the firm started tracking the PC monitor market in 2008.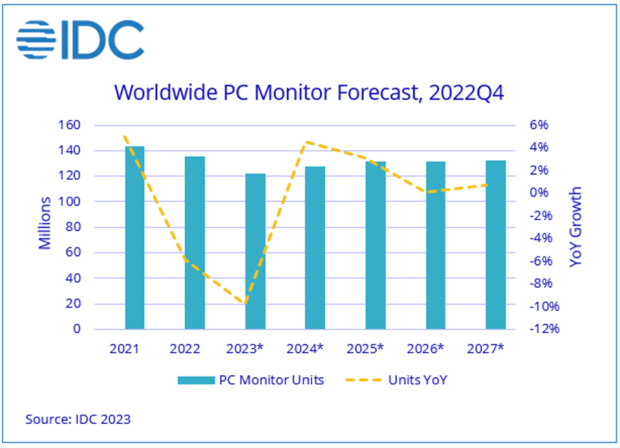 It's a trend that we've seen quite a bit of late, with reports across the entire range of PC hardware reporting a downturn during the tail end of 2022, with a mix of the rapid expansion during the pandemic and the current economic downturn seen as the reason. With so many people setting up a hybrid work-from-home environment, people aren't buying as many new PC monitors as they used to.
The Q4 2022 results led to an annual decline of 5.9% for the entire year, though IDC notes that the Q4 results align with its forecast of a 16.2% decline in shipments. Which at least means that it wasn't a surprise - so that's a plus. Sort of.
The report highlights the top brands for PC monitor shipments, where it's clear that the bulk of units are related to business sales and workstations - with Dell leading the pack, followed by HP Inc, Lenovo, TPV, and Samsung.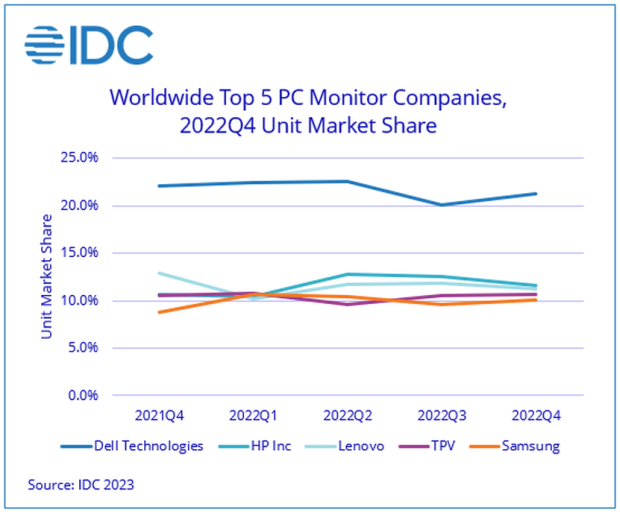 IDC expects 2023 shipments to follow a similar trend, with an additional 9.8% reduction in overall shipments "as lingering inventory and tepid demand weigh on the market." On the plus side, which we're all about here at TweakTown, 2024 should see a slight recovery to get things back to pre-pandemic levels.
"Monitors will remain an afterthought for many buyers in the short term," said Jay Chou, research manager for IDC's Worldwide Client Device Trackers. "Annual volume had averaged about 125 million before COVID-19, then shot up to over 135 million for each of the past three years. It will take a while for the dust to settle. Consumer and businesses are recalibrating their priorities, but we remain confident that much of the recently expanded installed base will be enticed to upgrade in the coming years."
And hey, if you're in the market for a new gaming monitor that won't break the bank, we definitely recommend checking out the ASRock Phantom Gaming PG34WQ15R3A 34-inch Ultrawide.