TweakTown's Rating: 89%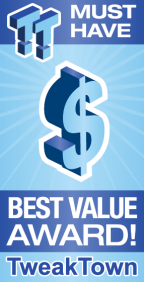 The Bottom Line
If you're in the market for an affordable ultrawide display, then it's hard to look past the ASRock Phantom Gaming PG34WQ15R3A. From the excellent 34-inch VA panel to its sturdy build quality, it's a value winner.
Pros
+

Ultrawide and curvy and affordable

+

Integrated Wi-Fi antenna is a genuinely excellent addition

+

Bright and vibrant VA panel with no perceivable ghosting

+

Near bezel-free front contrasts well with the RGB back

+

Decent out-of-the-box calibration and a wide viewing angle
Cons
-

The mini-OLED is a gimmick

-

RGB only works when connected via USB

-

OSD controls could use a few more presets and options

-

Cable-length could have been longer
Should you buy it?
Avoid
Consider
Shortlist
Buy
Introduction & Specification Details and Close-up
The ultrawide display is one of those things where once you decide to take a ride on flight 21:9, there's just no going back. It took a couple of years, but every major PC game release now supports the ultrawide aspect ratio - to the point where no 21:9 action would be surprising. There are a few technical reasons why the ultrawide display and the more common 3440x1440 resolution in the space have caught on, but the big one is immersion. Like films shot in cinemascope and presented in full widescreen, there's nothing like being fully immersed in a fictional world.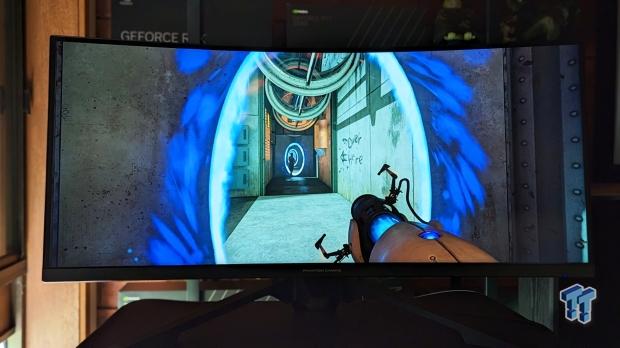 This might sound a little crazy but bear with me. I firmly believe the rise of ultrawide displays has adversely impacted VR adoption - they're that good. Okay, so this isn't the avenue to go into that little rant but let's take a quick look at the technical reasons for the massive increase in the popularity of ultrawide monitors. Most GPUs released in the last couple of years are great for 1080p and 1440p gaming but not so great for 4K. This is where PC gaming differs from console and TV gaming on account of 60 fps being the minimum people look for.
In addition to being super immersive, ultrawide displays offer an in-between - especially regarding the 3440x1440 resolution mentioned above. If you've got something like a GeForce RTX 3060 Ti - then it's time to curve that screen and stretch its horizontal axis like one of those things that stretch. Ahem.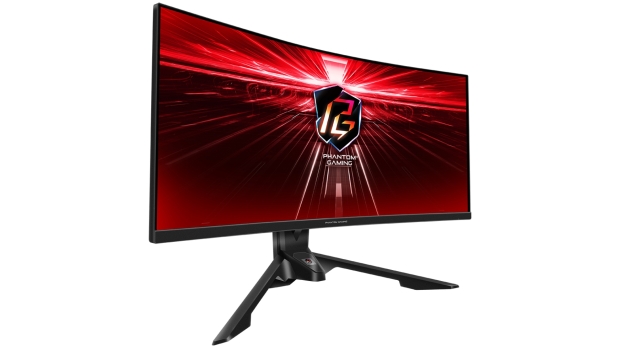 And with all of that, is it any wonder that ASRock's first foray into the display space would be an ultrawide monitor that targets the now sweet-spot specs of 34 inches in size, with a resolution of 3440x1440? We reviewed the monitor in question in January, hailing the ASRock Phantom Gaming PG34WQ15R2B gaming monitor as a resounding success thanks partly to its very attractive USD 430 price point.
Where does this place the recently announced and released ASRock Phantom Gaming PG34WQ15R3A? Pretty close, thanks again to its attractive USD 460 (with a USD 499 MSRP) and AUD 730 price point. You're getting the same thing - an impressive ultrawide on a budget. But with the addition of robust RGB lighting on the back and a mini-OLED embedded into the base of the stand. A strange addition for sure; let's dig in.
Specifications and Close-Up
Product Type: Display
Panel Type/Size:VA/34-inches
Resolution/Aspect Ratio: 3440x1440 (21:9)
Curvature: 1500R
Color Space: 91% DCI-P3 / sRGB 115%
Refresh Rate: 165 Hz
VRR: AMD FreeSync Premium
HDR: VESA DisplayHDR 400
Dimensions (with stand): 809.34 x 581.82 x 332.22mm
Tilt/Swivel: 20 degrees up, left, and right. 5 degrees down
I/O Ports: 1 x DisplayPort 1.4, 2 x HDMI 2.0, 1 x Headphone Jack(3.5 mm), 1 x USB Type-C Port (Power Supply for PG Mini O-LED and POLYCHROME RGB)
Audio: Speakers (2Wx2)
Additional Features: Integrated Wi-Fi Antenna
Weight: 9.63 kg (with stand)
What's in the Box: ASRock Phantom Gaming PG34WQ15R3A Display, Stand, Power Cord, DisplayPort Cable, HDMI Cable, USB 2.0 Type-A to Type-C cable, Wi-Fi Antenna Cables, Phantom Gaming Cable Sleeve, Quick Start Guide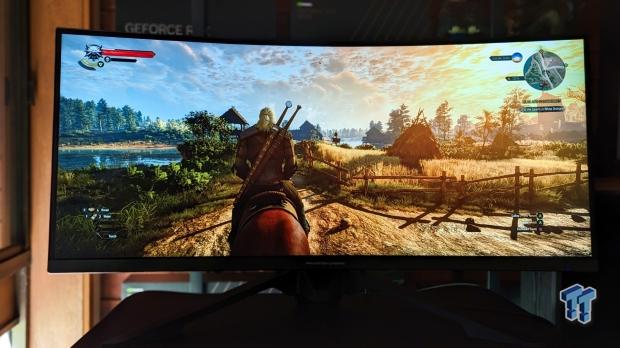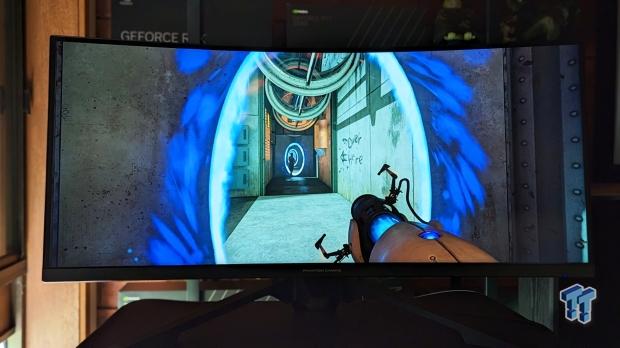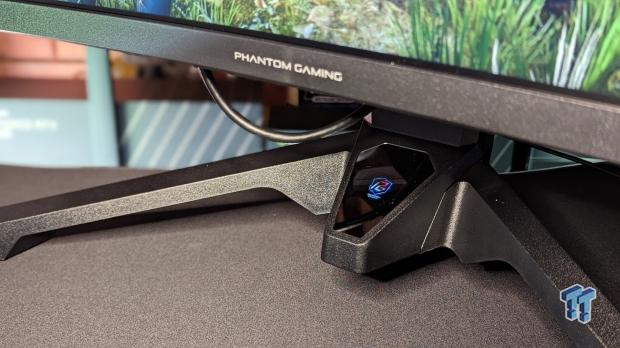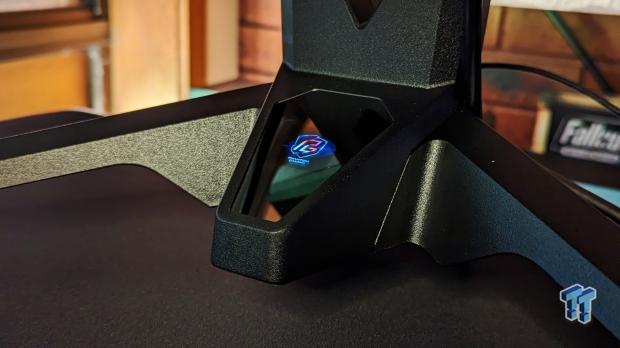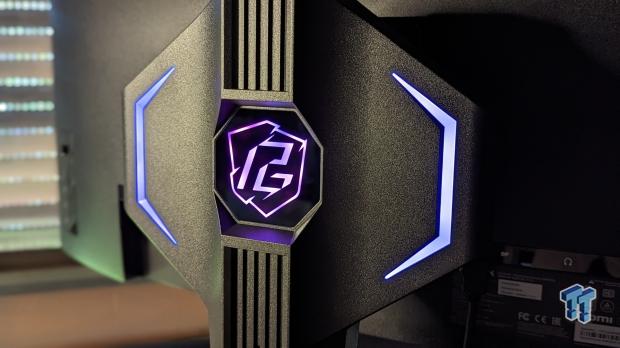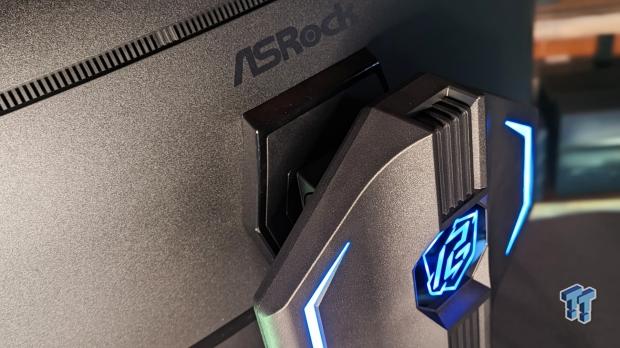 Kosta's Test System Specifications
Motherboard: MSI MPG X670E Carbon Wi-Fi
CPU: AMD Ryzen 9 7900X
GPU: NVIDIA GeForce RTX 4090 Founders Edition
Cooler: Corsair iCUE H100i RGB PRO XT Liquid CPU Cooler
RAM: 64GB (2x32GB) Corsair DOMINATOR PLATINUM RGB DDR5 DRAM 5200MHz
SSD: Kingston FURY Renegade PCIe 4.0 NVMe M.2 SSD 2TB
Power Supply: Thermaltake Toughpower GF1 850W
Case: Thermaltake Core P3 Tempered Glass Snow
OS: Microsoft Windows 11 Pro 64-bit
Physical Design and Panel Breakdown
Physical Design
Although it features a primarily plastic build for its outer shell, the physical design of the ASRock Phantom Gaming PG34WQ15R3A is sturdy. The stand is wide and chunky where it needs to be, and the display features a reasonably small bezel - which is excellent. So even though the RGB action on the back of the display is 100% something that you'd chalk up to gamer design, it's got a sleek, minimal enough aesthetic when in front of you.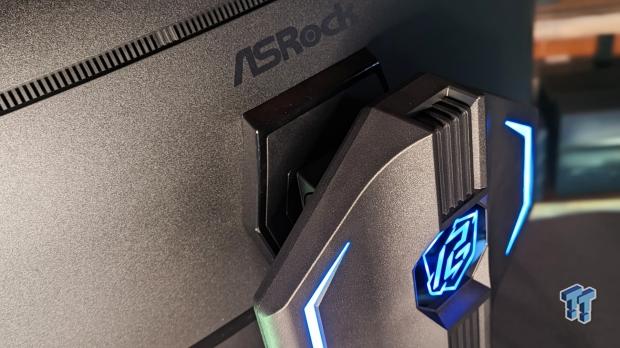 The addition of RGB lighting and a small mini-OLED panel is the main thing that separates this from its predecessor. However, the latter is disappointing because it can only display tiny 128x128 GIFs without any option to showcase system stats or actual information.
ASRock is known for creating great motherboards, and the mini-OLED is merely here to showcase your favorite logo or mini-meme. One unique and exciting feature of the display is the ability to use it as a Wi-Fi antenna - removing the need to try and balance one of those plastic antennas packed in with motherboards. It's a great addition and something we haven't seen before. Weirdly though, both the RGB (which ASRock calls 'POLYCHROME RGB') and mini-OLED panel only work when the display is connected via USB.
If there's one complaint to be made, cable length falls on the shorter side, which means the display will need to be pretty close to your PC. On the plus side, ASRock packs in a well-made cable sleeve.
Panel Breakdown
With a generous 1500R curvature and a vibrant VA panel, the ASRock Phantom Gaming PG34WQ15R3A is a testament to how far we've come in just a few short years. This display would have cost much more than the asking price not that long ago, especially when you've got impressive color accuracy and a panel bright enough to warrant a VESA DisplayHDR 400 rating.
On that note, HDR 400 is entry-level HDR and not as remarkable as what we see in the big-screen TV space, but it does mean that SDR (non-HDR) content can easily top 400+ nits in brightness, which is more than enough for just about any room.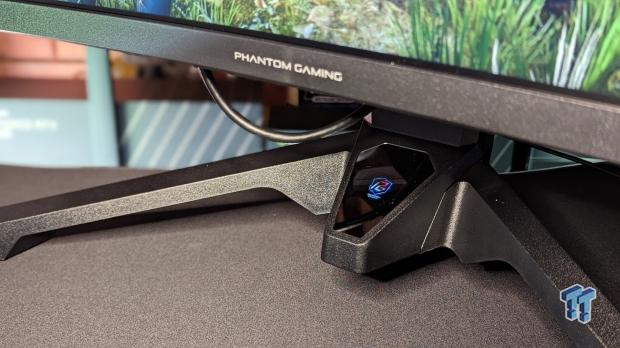 The VA panel, even though it does feature a 1500R curve, also manages to present a wide 178-degree viewing angle which is not common in the VA space. Contrast levels are impressive, too, with the 3000:1 contrast ratio delivering deep blacks and uniform color brightness for games and media.
VA is great for gaming compared to an IPS panel, as there's less noticeable backlight bleed, and dark scenes look closer to black than the greyish tone you get with IPS. IPS has its benefits, to be sure, but the panel included here punches well above its weight class - aka the price point.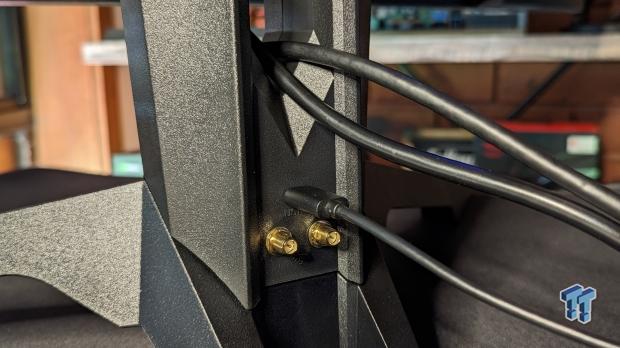 And with a 1ms response time, a 165 Hz refresh rate, and AMD FreeSync Premium support, you've got something tailor-made for gaming immersion. Although it's not on the official G-SYNC Compatibility list (as of writing), we can confirm that the panel does, in fact, support NVIDIA's variable refresh-rate tech, so it's an excellent option for all GPUs.
Customization and Performance
Customization
In terms of OSD controls, the ASRock Phantom Gaming PG34WQ15R3A features the standard little joystick nub thing alongside buttons to turn it on or switch inputs. The OSD controls are simple but intuitive, with a few basic presets for gaming and movies and the ability to adjust brightness and contrast.
Color options are here, too, with RGB control and the ability to enable sRGB mode for all presets, which is nice. The out-of-the-box calibration is decent, though you might need to do a little tweaking to improve DCI-P3 and sRGB accuracy - which sits within the ranges advertised by ASRock.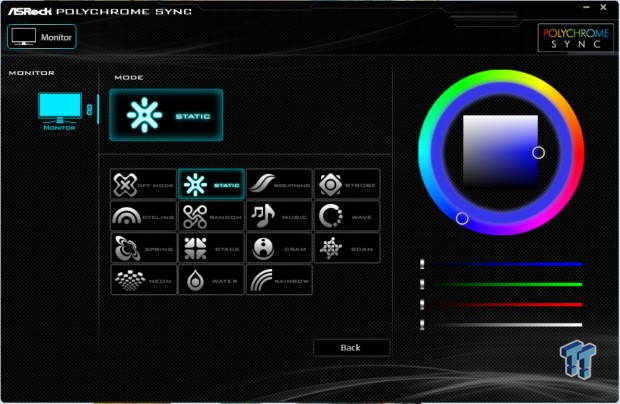 That said, ASRock's Dynamic Contrast Mode (DCR) is a little aggressive in how bright it makes the image, so manual customization is the best route for tweaking. On the software side, you've got ASRock Polychrome RGB, which requires a USB-C connection, but this is limited to RGB customization and uploading GIFs to the mini-OLED display. The RGB options are great, but as the lighting is on the back of the show, it's not something you'd see.
Performance
When it comes to a gaming display, even though one of the most important specs is the overall response time you get (it's 1ms here), which can significantly reduce input lag, the biggest concern comes from ghosting and artifacts when refresh rates are pushed into the region of 165 Hz.
Thankfully, the ASRock Phantom Gaming PG34WQ15R3A delivers a great look and feel to how it handles motion - without any perceived ghosting - when testing DOOM Eternal, running at the full 165 Hz (165 fps. The image quality is excellent for an affordable display with impressive contrast and color accuracy.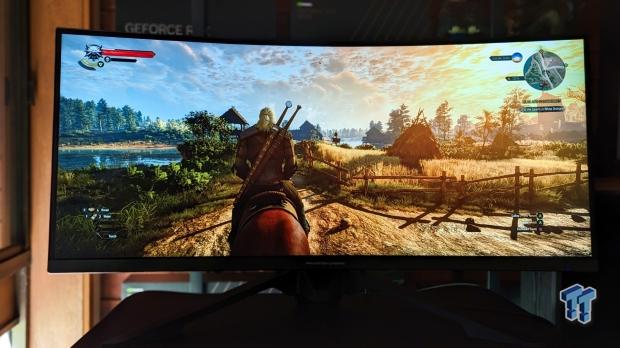 The ASRock Phantom Gaming PG34WQ15R3A excels as a gaming display, which we quickly learned when testing a range of titles. The Dead Space Remake for deep blacks and shadowy visuals, Forza Horizon 5 for fast motion, DOOM Eternal, and Call of Duty: Modern Warfare II for response times and quick fps action. ASRock should be happy with what it has delivered.
On the productivity front, the results are decent, and you get the added benefit of ultrawide acting as a multi-screen setup of sorts. But high-refresh-rate VA panels can make working with text a little finicky (turning down the refresh rate can help), and the image looks not quite as sharp as what you'd find on an IPS display. But it's still decent enough, to the point where the overall gamer aesthetic of the ASRock Phantom Gaming PG34WQ15R3A's back panel and angular stand makes more of an impact on its productivity chops versus the panel itself.
Final Thoughts
Although the mini-OLED display and RGB lighting might not be something you'd consider essential or even necessary, they don't detract from an excellent and affordable ultrawide display. There's no point comparing the ASRock Phantom Gaming PG34WQ15R3A to a far more expensive OLED monitor or an IPS display with HDR 1000 certification - this is aimed at giving you a great gaming experience without blowing out your budget.
Regarding the curved VA panel used here, you've got an impressive and vibrant ghosting-free experience that helps sell the idea of "gaming in ultrawide."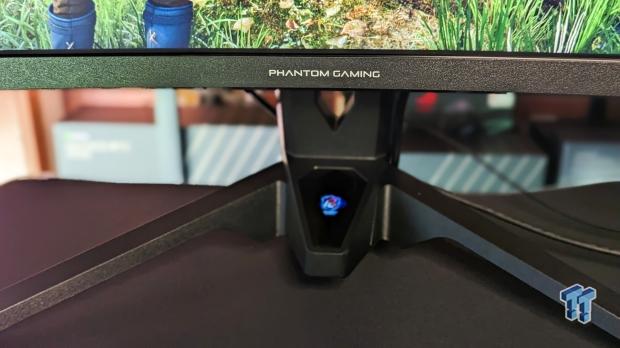 There's definite room for improvement on the software side, presets and customization on offer, and features like the mini-OLED panel - but all of this has little to do with the image quality and experience you get.
If you haven't yet made the plunge and decided to go ultrawide or are looking at switching out a two-display setup for something more unified, then the ASRock Phantom Gaming PG34WQ15R3A comes highly recommended - a budget gaming winner.