ASRock's new Blazing M.2 Gen 5 Fan-Heatsink is an active cooling solution for PCIe Gen 5 SSDs and is compatible with the company's AM5 and LGA1700 motherboards with Gen 5 M.2 slots. There's also a special edition for the XB650E Taichi series.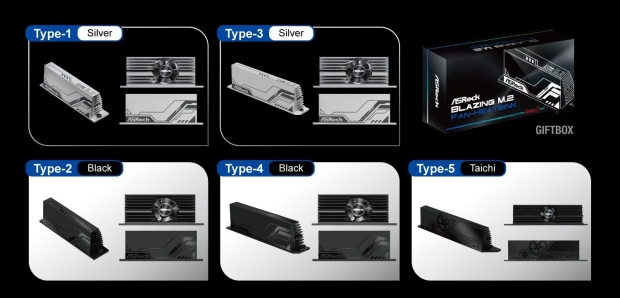 They come in a few different flavors, and ASRock has released a handy guide to know which version is best suited for which motherboard, but the real story here is that we're entering the age of storage that needs active cooling, and that is something with a heatsink and fan.
The reason for this, of course, comes down to the incredible speeds on offer with PCIe Gen 5 SSDs, where it's looking like read speeds of over 10 GB/s are set to become the norm - a two-fold increase over the already fast PCIe Gen 4 SSDs currently available.
The Blazing M.2 Gen 5 Fan-Heatsinks are around 5cm tall, made of aluminum, and feature a small 30mm fan for airflow (up to 4.92 CFM). They are an extension of coolers packed in with ASRock motherboards since late last year but will now be sold at a standalone price of around USD 30 to offer SSD cooling and minimize thermal throttling.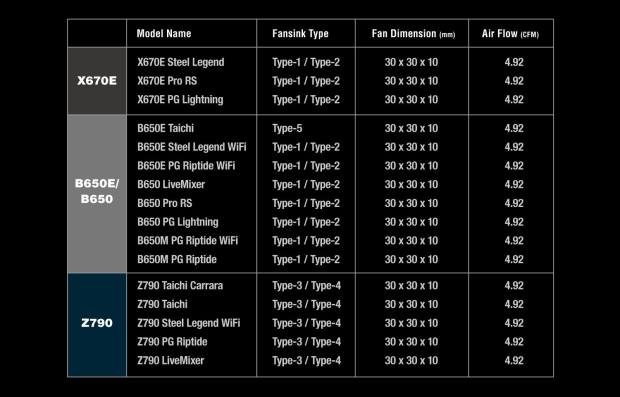 With the real estate of modern GPUs and the positioning of M.2 slots, the 5cm size will no doubt be an issue for specific builds - or at least something you might need to plan around. With it looking more and more like high-speed PCIe Gen5 drives will require heatsinks to perform at optimal speeds, perhaps we'll also see a redesign of motherboards to give M.2 slots the sort of clearance given to RAM.
And for those wondering about additional fan noise, Hassan Mujtaba of Wccftech has received a prototype version of a Blazing M.2 Gen 5 Fan-Heatsink and notes that it "does have that bzzz noise *feature* when the fan ramps up."