The age of PCIe Gen 5 SSDs is almost upon us, even though it still feels like PCIe Gen 4 SSDs have finally hit their stride in terms of affordability and pushing the tech and speed as far as they can go. But that's the thing, in the world of PC hardware, if you can go faster - you should.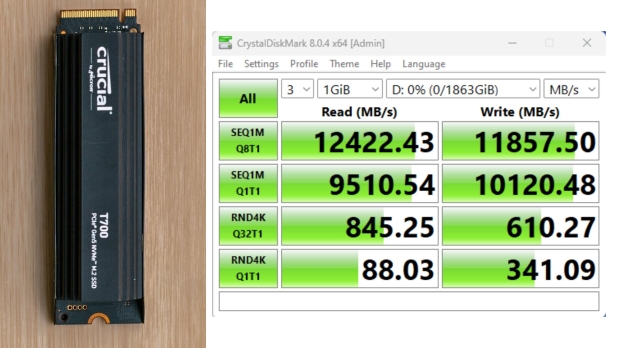 This is why we're seemingly in the midst of a PCIe Gen 5 SSD arms race, where hardware makers are looking to push read and write speeds to levels that would have seemed impossible a few short years ago. Recently, Linus Tech Tips got their hands-on such a device - the Crucial T700 PCIe 5.0 SSD, based around the Phison PS5026-E26 controller and Micron 3D NAND chips.
As expected for high-speed M2 storage, the sample featured a Crucial-branded heatsink - but the real kicker comes with preliminary results via Crystal Disk Mark storage benchmark software. Here the Crucial T700 PCIe 5.0 SSD manages to hit an impressive read speed of 12,422.43 MB/s with a write speed not that far behind at 11,857.50 MB/s.
Linus Tech Tips posted the results on Twitter, noting that Crucial offered them a sneak peek at its next-gen SSD offering. This is a substantial 2X times increase over most PCIe Gen 4 SSDs, including Crucial SSDs. And on that note, Crucial responded to the post with a release window for the new SSD of May 2023.
The availability of PCIe Gen 5 SSDs remains limited, even though Gen 5-capable desktops have been a thing for a while now. This new Crucial SSD, and word that Sabrent is collaborating with Phison to push PCIe Gen 5 SSD read speeds to 14,000 MB/s, makes it look like the Gen 5 storage revolution will happen in 2023.