With the arrival of PCIe Gen 5 SSDs, we've seen a massive boost in read speeds compared to where PCIe Gen tech was only a couple of years ago. As the first PCIe Gen 5 SSDs hit the market with ratings in the impressive 10,000 MB/s range on the high-end, Sabrent is working closely with Phison to develop a new line of PCIe Gen 5 SSDs that can push read speeds up to 14,000 MB/s.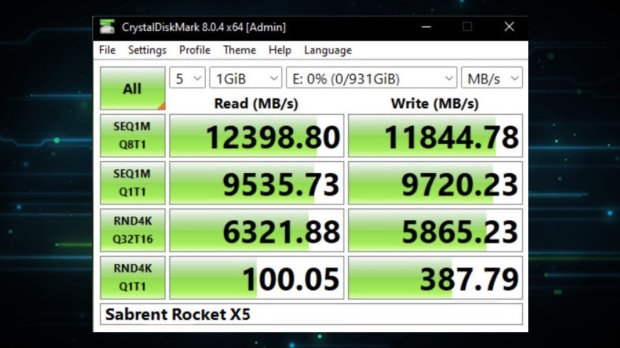 Sabrent is still in the testing and development stage, but it has shared some of the tests it's carried out on its new Sabrent Rocket X5 Gen 5 SSD.
Sabrent has passed the 12,000 MB/s barrier with results from CrystalDiskMark - effectively breaking all current SSD records. It also almost hit 12,000 MB/s write speeds, which is pretty incredible.
Sabrent notes that "technology is limiting us at this point" regarding reaching the 14,000 MB/s goal it has set for its new Sabrent Rocket X5 Gen 5 SSD range, adding that it expects "that will come at a later point."
Working with Phison makes a lot of sense, as recently, the company presented its results where it was pushing read speeds into the 12,000 MB/s region. "We aim to improve that and increase the performance as high as possible," Sabrent writes, in what is an impressive claim. If we could put a bet on the outcome, Sabrent's track record in creating high-performance and highly reliable SSDs makes it feel like a sure thing.
As the Sabrent Rocket X5 Gen 5 SSD is still being worked on and not a finalized product in any sense of the term - the naming could potentially change as we get closer to release - we'll keep a close eye on this one. And the "many new groundbreaking products we will release soon" that Sabrent is teasing us with.