It looks like gaming bundles are back on the menu, which is fantastic because it's always great to get a new game when you purchase a brand-new GPU. It used to be the norm back in the day and seemed to disappear until recently, so it's great to see them return.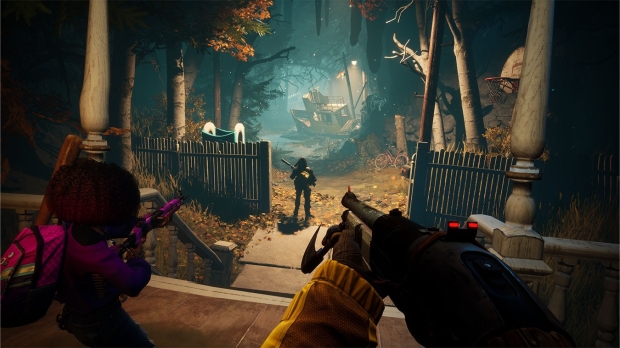 As per its namesake, NVIDIA's new Redfall Bite Back Edition GeForce RTX 40 Series Bundle will give those that purchase select GeForce RTX 4070 Ti, RTX 4080, and RTX 4090 graphics cards, desktop PCs, or GeForce RTX 4080 and 4090 Laptop GPUs a digital copy of Redfall Bite Back Edition.
Redfall is a new open-world co-op vampire-hunting action game from Arkane Austin, the studio behind the excellent Prey and Dishonored. Redfall is "loaded with NVIDIA tech," as the game supports the AI-powered NVIDIA DLSS 3 rendering and NVIDIA Reflex, with ray-tracing support arriving in a post-launch update.
This is a special edition of Redfall, too, with an MSRP of USD 99, and it will be available alongside the game when it launches on May 2, 2023.
It includes:
A Steam PC digital copy of Redfall, which unlocks May 2nd

Redfall Hero Pass with two future heroes

Laser Beam Multi-Weapon Skin

Tactical Knife Stake Weapon Attachment

Northern Expedition Devinder Outfit

Eyes in the Dark Jacob Outfit

War Clothes Layla Outfit

Engineer Volunteer Remi Outfit
We're not sure why this bundle looks limited to GeForce RTX 4080 and 4090 laptops - excluding GeForce RTX 4070, RTX 4060, and RTX 4050 laptops feel like a misstep for an otherwise great deal. Redfall is one of the most anticipated releases for the first half of 2023, so hopefully, this doesn't mean that the desktop GeForce RTX 4070 (rumored to release in April) missed out too.
For more info on the bundles, including terms and conditions, check out the source links below.