It was reported that sales for discrete Intel Arc GPUs had caught up to AMD Radeon GPU shipments, with both companies sitting at 9% market share compared to NVIDIA's staggering 82%.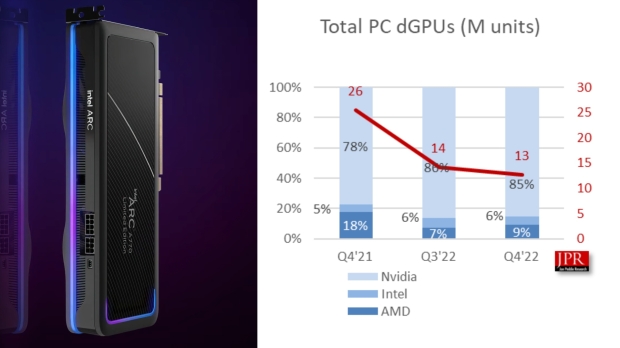 The figures arrived via Jon Peddie Research - which we reported here - but it turns out the figures were incorrect in that they counted data center GPUs - over 60,000.
The initial report was notable because it painted a picture where shipments for both Intel and AMD discrete graphics cards for desktop gamers were neck and neck. The revised figures for dGPU shipments for NVIDIA, AMD, and Intel bump up NVIDIA's market share to 85%, followed by AMD at 9% and Intel at 6%. The Intel Arc graphics card range is still relatively new on the scene, and the revised figures still paint a reasonably optimistic picture for Intel.
"We have remodeled Intel's Q4 dGPU shipments by subtracting the 60,000-plus-high ASP Ponte Vecchio dGPUs," says Jon Peddie wrote in an update. "We have never counted AMD or Intel GPU-compute GPUs in our quarterly reports and got caught by surprise by Intel. We don't think Intel intended to deliberately mislead the industry and simply isn't used to dGPU consumer vs. data center GPU shipment differentiation-a dGPU is a dGPU (except they aren't)."
An honest mistake and one that was quickly rectified. Math can be hard sometimes - especially when it involves charts and trendlines. And even though this is "good news" for AMD, it highlights that having three players in the discrete GPU space hasn't affected NVIDIA's GeForce line-up from maintaining its commanding lead regarding sales and mindshare.