If AMD's internal gaming benchmarks are anything to go by, then the upcoming launch of the 3D V-Cache enabled Ryzen 7 7800X3D could see it becoming the CPU of choice for new PC gaming builds.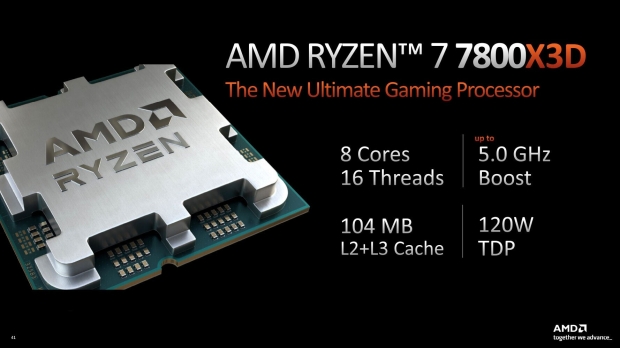 Although we've seen some impressive in-game results for the flagship Ryzen 9 "Zen 4" 7950X3D (check out our review for that here), the eight-core, 16-thread Ryzen 7 7800X3D is shaping up to be a worthy successor to the Ryzen 7 5800X3D, not only in terms of performance but in price too. The Ryzen 7 7800X3D is priced at USD 449, and compared to Intel's USD 589 flagship Core i9-13900K - its gaming chops look very tasty.
The benchmarks arrive courtesy of Tom's Hardware, where we see 1080p benchmark results comparing the Ryzen 7 7800X3D to the Intel Core i9-13900K in games like Rainbow Six Siege, Red Dead Redemption 2, and Horizon Zero Dawn.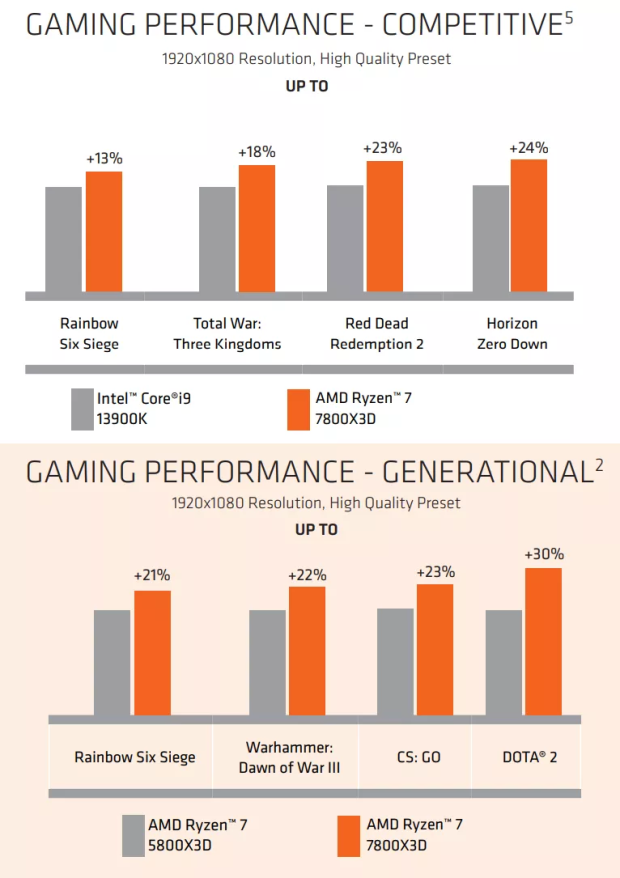 Of course, being results from AMD itself, we're probably looking at some cherry-picked results. Still, cherries or not, a 23% improvement in Red Dead Redemption 2 performance and a 24% improvement in Horizon Zero Dawn performance is nothing to sneeze at. Especially when you factor in the price difference between these GPUs and that AMD's Zen 4 architecture is more power efficient.
The performance we see here is comparable to the flagship Ryzen 9 7950X3D - which makes us wonder why the launch of the Ryzen 7 7800X was delayed. It's looking like the Ryzen 7 7800X3D will offer similar levels of gaming performance (a difference of only 5%) for USD 250 less. This would make it a great deal for PC gamers. Naturally, we'll have to wait until we see complete benchmarks and reviews of the new Ryzen 7 7800X3D before we can make any definitive statement - but it is shaping up to be a worthy competitor to the Ryzen 7 5800X3D.
And on that note, Tom's Hardware also featured some previously showcased benchmarks comparing the new 7800X3D to the 5800X3D (again, four games look to have been carefully selected), where we see an up to 30% improvement in 1080p performance in DOTA 2.