Windows 11's recent big update, less than a week ago, brought the Bing chatbot to the taskbar - but the AI has just been unceremoniously ejected from the interface (at least for the time being).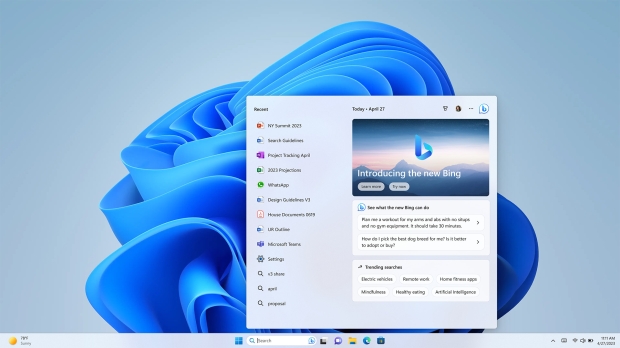 Microsoft removed the ChatGPT-powered AI without any notification or reason why the chatbot was given its marching orders, as MS Power User observed.
So, we're left scratching our heads a bit about what has happened here. Although it was something of a surprise to see Bing appear at the foot of the Windows 11 desktop in the first place, given that it wasn't tested in preview first.
The implementation of the AI on the taskbar was odd, mind you, and that could be bound up in the reasoning for its removal.
Microsoft introduced a proper search box (as opposed to a small icon) to the Windows 11 taskbar with the chatbot embedded within, and when you clicked the box, the search panel that popped up contained info on the 'new Bing' (the company's name for the AI) and examples of what it could do.
The thing is, you couldn't actually access the Bing AI from the taskbar, it just fired up this introductory gubbins, and the ability to link through to Bing in the Edge browser. So in fact, the AI wasn't really present on the taskbar at all, it was a glorified link through to the chatbot in Microsoft's browser. (Yes, surprise, surprise - another way to get folks opening Edge, one of many in recent times).
Once Windows 11 users realized this, there was a predictable flood of complaints about the way Microsoft had gone about this. And how Microsoft's blog post for the update built up the presence of the Bing chatbot as some kind of integrated AI directly on the Windows 11 desktop, which it very much wasn't.
With the disappointment around Bing's initial taskbar implementation, the likelihood is that Microsoft has reversed course and will be looking at another way to achieve this. Because we're certain the Bing AI will return to the taskbar, except not in a form that'll bug users. Well, hopefully not, anyway.
Meanwhile, the Bing AI has been considerably developed over the past week, gaining three different personalities that those engaging with the bot can choose between. Those personality choices are now live for all users, ranging from creative to precise. Creative produces chattier and more informal, free-rein responses, whereas precise leads to drier search-style replies (with a balanced setting that's somewhere in between the two).
People seem to prefer the creative option, unsurprisingly, as the whole point of an AI is to make it seem like you're interacting with, well, an intelligent entity, rather than getting a search result. The creative personality is also where the stranger responses from the AI will doubtless be found, which has an allure of its own.