Windows 11 just received a major update that puts the Bing AI chatbot onto the taskbar, among other big changes.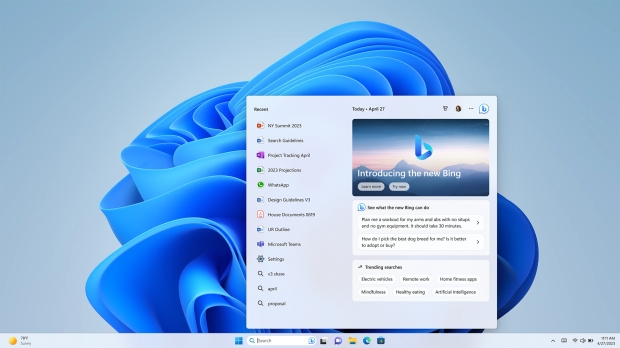 This is essentially the return of the search box on the taskbar - which was replaced by a more compact button in Windows 11 - except now when you're typing queries, you'll be enlisting the help of the ChatGPT-powered Bing to assist you.
Only those who have signed up for the preview of the 'new Bing' (as it's called formally by Microsoft) will have access to the AI, mind you, providing they have also installed this new Windows 11 update.
In its blog post introducing the update, Microsoft enthuses:
"Soon hundreds of millions of Windows 11 users can get access to this incredible new technology to search, chat, answer questions and generate content from right on their Windows taskbar."
Which would seem to suggest that the process of opening up the Bing preview is going to move pretty speedily going forward.
We do wonder if the Bing chatbot is quite ready for its full Windows 11 debut yet, though. As you're likely aware, the AI has been undergoing a fair bit of tuning recently, after its initial implementation went rather off the rails.
Microsoft hugely cut back on the length of conversations that the AI was able to engage in, as longer chats apparently caused a danger of it getting confused and potentially seriously off-topic. And the company also revealed plans to bring in three distinct personalities (a feature that should be rolling out imminently, later this week in theory) to help users tame the worst excesses of the bot (should they wish).
In short, the AI still feels very much like a work in progress (which to be fair, it is - but that'll have to change pretty sharpish if it's on a whole ton of taskbars across the globe).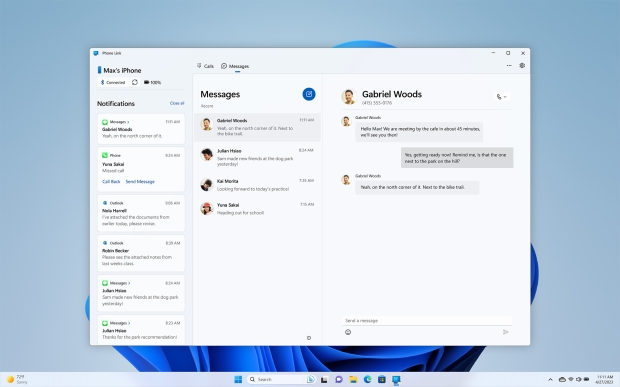 Phone Link
Away from all things Bing, the new Windows 11 update adds the ability to hook up your iPhone to your PC, with Phone Link for iOS (the Android version has been around for a long time, of course).
This is an initial preview for iOS, however, so the functionality is relatively basic: you get support for calls, messages, and contacts, but that's it. So texts, for example, will come through via Windows 11 notifications, meaning if you're working away at your PC and fully absorbed in the desktop, you won't miss an important message.
Phone Link for Android has also been bolstered, at least for those with a Samsung smartphone, as they can now transfer browser sessions straight from the handset to their PC, allowing for seamless browsing between devices.
The new update also brings fresh widgets to Windows 11, including Spotify, Xbox Game Pass, and the aforementioned Phone Link too.
Microsoft has further improved things for touchscreen users by making it so that when using a 2-in-1 as a tablet - such as when you detach the keyboard with a Surface device - the taskbar automatically collapses, vanishing to give you more screen space. If you want to invoke the taskbar, you can simply swipe up from the bottom of the screen.
This is a useful touch for convertible devices that often have smaller screens, so all the display real-estate you can get your hands-on (or fingers, rather) is certainly welcome.
Among the other raft of changes present, which you can read about at full length in Microsoft's blog post, another notable introduction is tabs for Notepad (following them arriving in File Explorer).