Deep Silver's Dambuster studio introduces yet another big reason why we should be excited about Dead Island 2.
New Dead Island 2 gameplay footage revealed a closer look at one of the game's most interesting mechanics. While the sequel preserves a lot of the features and tropes from the first two games, Dead Island 2 has a new way to augment your zombie superpowers that offers lots of customization.
The game will use skill cards to boost abilities with new modifiers. Dambuster's new system lets gamers mix and match cards to create interesting scenarios of havoc and destruction. Think of these cards as yet another way to execute devastating combos in addition to the weapons, gadgets, and environmental hazards throughout L.A.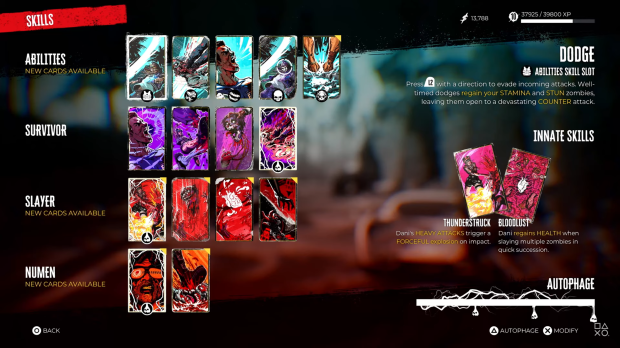 Dead Island 2 also features the new Fury Mode, which basically sees you being consumed by the zombie infection. You basically turn into Doom guy with the berserk power up and smash everything in your wake.
Dambuster Studio Community Manager Toby Gallagher explains some of the combos:
Mix the Ground Pound Ability with the survivor skills Flare Up and Quake to create a truly devastating ground smash that topples zombies and ignites the floor underneath them.

Combine the Dash Strike ability with the Slayer skill Hammer Fist to unleash a strike capable of launching zombies into the stratosphere. This card combo is ideal for pushing zombies off those Beverly Hills mansion rooftops to their demise or into pools of acid and other dangerous substances. Bumped into a zombie donning a grenade belt? Pull the pin and send them into a crowd of their own kind for explosive results.
Dead Island 2 releases April 21, 2023 on PlayStation 5, PlayStation 4, Xbox Series X/S, Xbox One, and PC.