Microsoft will be required to release or make available some version of Call of Duty onto the current-generation Switch console in order to fulfill its promise to bring the series to 150 million more consumers.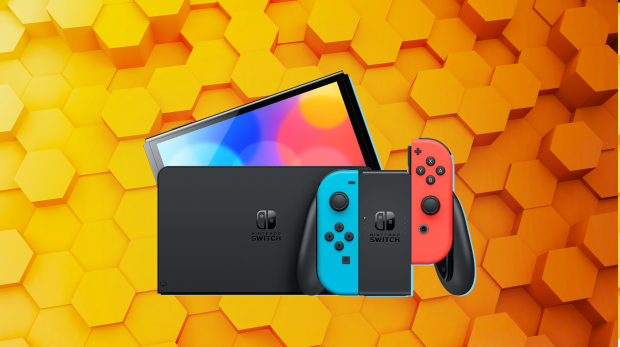 Microsoft has signed 10-year agreements to bring Call of Duty to Nintendo platforms and NVIDIA's GeForce Now service. The tech giant has told the public and the press that the licensing deals will bring Call of Duty to 150 million more gamers--a number that combines the Switch install base (122.5 million) and NVIDIA's GeForce Now members (25 million).
According to our findings, the two deals could benefit Microsoft by exponentially expanding the reach of key Xbox games, including Activision's $31 billion Call of Duty franchise. There appears to be very little downside to these deals except for one potential snag: the hardware performance limitations of the current-gen Switch.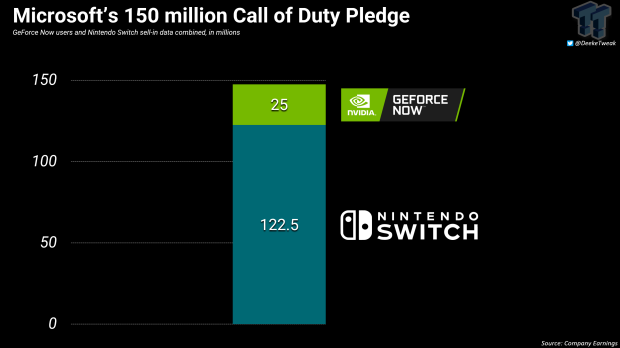 Read Also: Microsoft's 10-year deals with Nintendo, NVIDIA were masterfully planned
Activision has avoided bringing Call of Duty on the Switch due to the system's lower-end hardware, and the Switch's weaker performance is a big reason why regulators are discounting Nintendo's competitive presence in the console market.
In a recent interview with Bloomberg, Microsoft President Brad Smith stresses the importance of the numbers surrounding the deal.
Microsoft is attempting to pre-emptively assuage regulators by proposing access remedies that seem advantageous to the company. Smith's comments may however lock Microsoft into an obligation to release Call of Duty on the current-gen Switch.
"What we've really shown is if this deal is approved with these agreements, we will bring Call of Duty to 150 million more people," Smith told Bloomberg.
The general consensus is that Microsoft is aiming to release Call of Duty on Nintendo's next-gen console hardware. This is likely to be true. However, the current Switch cannot be left out if Microsoft wants to achieve its goal.
Nintendo's new upgraded Switch should start a new console generation and reset the installed base numbers. Even if the new Switch is backwards compatible it may not be included in the Switch family. The Super Switch, or Switch 2, is expected to deliver upscaled 4K gaming via a new powerful DLSS-enabled chip from NVIDIA. There will be marked performance discrepancies between the Switch and Switch 2, not unlike the jump from the PS4 to the PS5.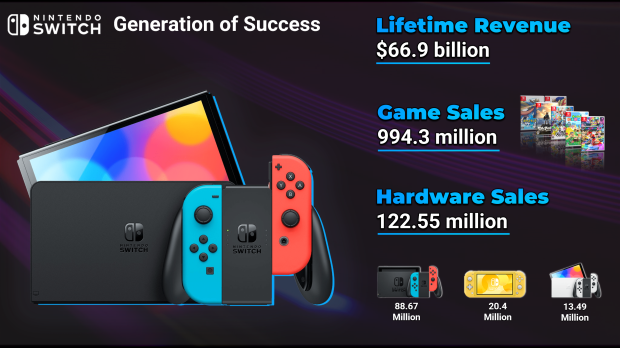 Read Also: Microsoft sees 'clear path' towards regulatory approval of Activision merger
In order to honor the pledge to bring Call of Duty to 150 million more gamers, Microsoft will need to launch some form of Call of Duty on the current Nintendo Switch. This could be very challenging, but there's some possible solutions.
Call of Duty could come to both Switch platforms in different ways. Microsoft could release a cloud-enabled version of Call of Duty on the current-gen Switch in order to circumvent performance limitations, but this could significantly adversely affect the player experience due to latency and connectivity issues.
The next-gen Switch, on the other hand, would likely get a dedicated Call of Duty game release. It is expected that the new Switch hardware will enable developers much more power to optimize their games.
Microsoft's public commitments say that it will offer Call of Duty to Nintendo players on the same day with feature and content parity. Performance parity remains to be seen, however.