NVIDIA now supports the Microsoft-Activision merger following a robust partnership deal that's too good to pass up.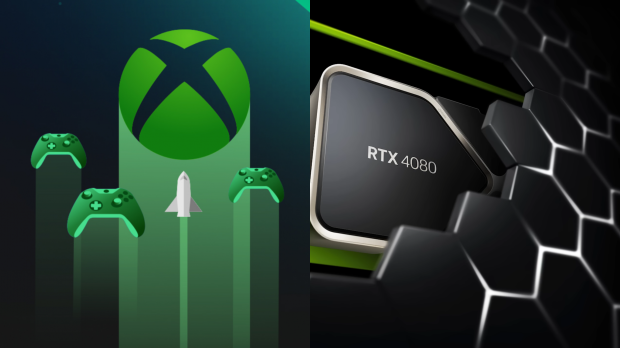 Today was a big day for Microsoft. The company attended a closed-door hearing with European Commission regulators and argued why it should be allowed to acquire Activision-Blizzard for $68.7 billion. In a rather cunning PR move, Microsoft also held a press conference to publicly announce some major breakthroughs that it has made with competitors in an attempt to quash regulatory concerns.
Just last night, Microsoft signed a 10-year commitment to bring Call of Duty and other Xbox games to Nintendo platforms. Now at the press conference in Brussels, Microsoft has announced that it has signed a similar deal with NVIDIA to bring all Xbox PC games to NVIDIA's GeForce Now game streaming service. This includes Call of Duty games and other Activision-Blizzard titles. A press release confirms gamers will need to purchase and own a game before it can be streamed with GeForce Now.
This is no different than how the service currently operates, however it's very unlike how Microsoft serves up games with its own xCloud game streaming service, which offers access to a pool of games as part of an active Xbox Game Pass Ultimate subscription. It's also worth mentioning that NVIDIA's GeForce Now service vastly eclipses the power of Microsoft's Xbox game streaming servers; GeForce Now includes access to RTX 4080 desktop-grade graphics cards, whereas xCloud is powered by Xbox Series X consoles with a limited RDNA 2.0 GPU.
If the merger closes, Microsoft says that gamers will be able to stream any and all Xbox and Activision game purchases made on Steam, Epic Games Store, and the Windows Store through the GeForce Now service.
"Microsoft will be bringing its Xbox games that play on PCs to NVIDIA's GeForce Now cloud gaming service. We will also bring all of Activision Blizzard's titles including Call of Duty to GeForce Now," Microsoft President Brad Smith in the press conference.
NVIDIA now approves of the Microsoft-Activision merger:
"Combining the incredibly rich catalog of Xbox first party games with GeForce NOW's high-performance streaming capabilities will propel cloud gaming into a mainstream offering that appeals to gamers at all levels of interest and experience," said Jeff Fisher, senior vice president for GeForce at NVIDIA.
"Through this partnership, more of the world's most popular titles will now be available from the cloud with just a click, playable by millions more gamers."