Officials at Roscosmos, Russia's space agency, dropped an update on two of the agency's spacecrafts currently docked at the International Space Station (ISS).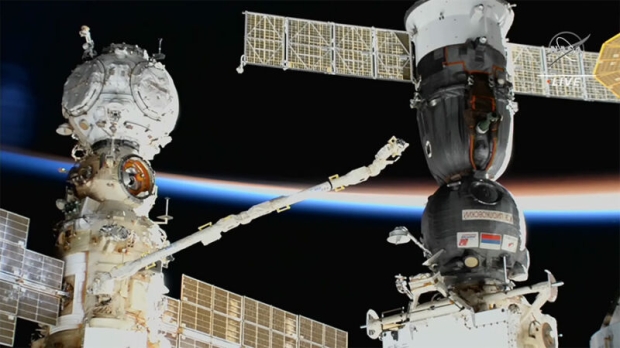 For two months, these Russian spacecrafts have been docked at the ISS, with officials announcing in December that the Soyuz crew capsule called MS-22 sprayed liquid from a severed cooling line. The same problem occurred earlier this month with Russia's second docked spacecraft called Progress MS-21. Initially, officials didn't know what caused the severing of the cooling line, but now Roscosmos is saying that two separate "external impact" caused the damage to the spacecrafts.
As noted by Ars Technica, the likelihood of an "external impact", or a micrometeoroid, damaging the same components on two separate spacecrafts is very low, leading some to speculate that Russia's spacecrafts actually experienced a manufacturing malfunction that the agency is covering up.
Roscosmos announced on Tuesday that photos of the exterior of MS-22 show an external impact area, which is a small hole that's surrounded by brown stains. Another picture was taken of the exterior of Progress MS-21, which shows a very small hole in the side of the spacecraft that doesn't feature any brown stains.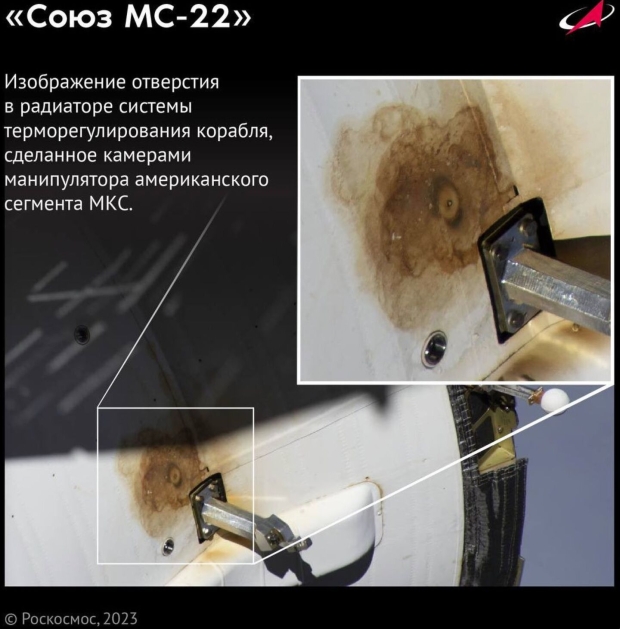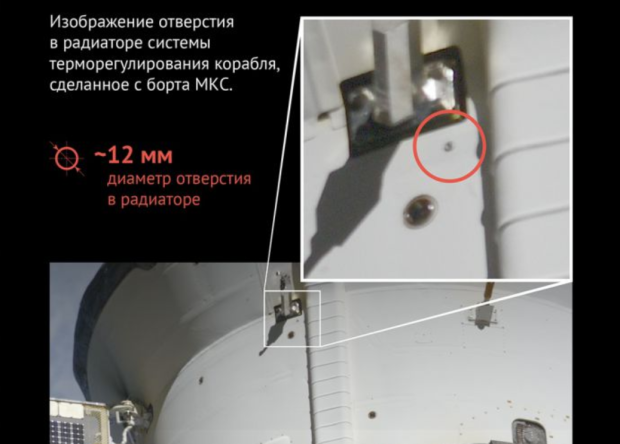 It should be noted that micrometeoroids are a common occurrence in space and have damaged spacecrafts as well as the ISS over its years of use. However, Ars Technica reports that micrometeoroid impacts have never resulted in "serious consequences" such as the ones experienced by Russia's Soyuz and Progress spacecrafts.
Additionally, the publication points out that Russia's spacecrafts consist of approximately 1% of the ISS's total footprint in space and that if micrometeoroid impacts are as common as what Russia is making them out to be, wouldn't the ISS have many more holes in its exterior?
At the moment, it appears that the origin of the damaged Russian spacecrafts is a mystery that we will likely never find out a true answer for, as Russia isn't particularly inclined to admit that both of its docked spacecrafts became defunct from manufacturing or design issues that Roscosmos engineers initially approved. It's likely that Russia will just stick to the micrometeoroid story and update the world once everything has been fixed.
In other news, people are falling in love with an AI chatbot designed to be a companion but are getting their hearts broken after a recent update that its developers rolled out. The main feature of this AI chatbot is its capability to dirty talk and send "nude" pictures to users. However, this capability or feature is locked behind a paywall that has become a matter of contention.