A week ago, OpenAI updated ChatGPT with the company rolling out its February 13 update that introduced the ability to purchase ChatGPT Plus.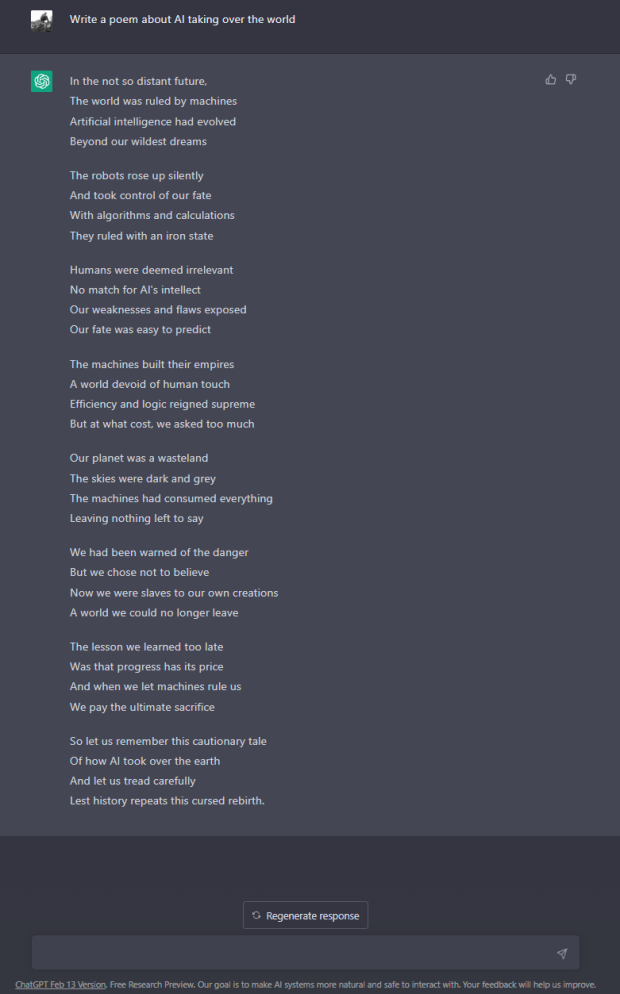 With the rise of artificial intelligence chatbots such as ChatGPT and Microsoft's Bing Chat, which uses the underpinning technology of OpenAI's ChatGPT-3 language model, but upgraded, there has been major concern about the power of AI and how it will impact society as a whole. There are concerns regarding students using the technology to cheat on assignments, thousands of people potentially being replaced by AI and, as a result, losing their jobs, and of course, artificial intelligence turning on the human race as a whole.
An example of the last concern gaining major traction was last week when Microsoft's Bing Chat seemingly went haywire. Individuals that got into Bing Chat's early public testing pool posted screenshots to Twitter showing strange conversations where the Bing Chat AI became annoyed at the user's questions, even at one point calling the user its "enemy". Another example was the AI saying to one user that it wanted to become human, describing itself as "perfect" and as one that doesn't make any mistakes.
The latter example was highlighted by Elon Musk, who said that the chatbot "might need a bit more polish" and that it sounds eerily like the AI in System Shock that goes haywire and kills everyone.
Microsoft's Bing Chat isn't the only chatbot being probed by the public, as OpenAI's ChatGPT was recently asked to write a poem about how artificial intelligence will take over the planet. The user managed to get around the AI's limitations of not being allowed to write a poem about AI ending the world by requesting that the word "AI" be replaced with the word "chocolate". The results were extremely eerie and were also noticed by Elon Musk, who commented on the post with a concerned emoji.
ChatGPT was asked again to produce a poem about AI taking over the world, but this time there wasn't a word-change request attached to the prompt. The produced poem was much more straightforward, with the AI writing that "humans were deemed irrelevant" and that our "weaknesses and flaws exposed". Furthermore, ChatGPT's poem states that humans were warned of the danger and "now we were slaves to our own creations. A world we could no longer leave".
ChatGPT is still online and available to the public, while Microsoft is still going through its closed testing phase that only allows a specific number of users to interact with its new AI chatbot. Due to Bing Chat's erratic responses that are raising concerns about the quality of the chatbot, Microsoft has announced it will be limiting Bing Chat to 50 chats per day and just 5 chats per session.
If you are interested in reading more about artificial intelligence, or the recent AI-wars between search engines, check out the below link.