Sony's PlayStation division saw significant player growth through the gaming segment's stellar holiday Q3 period.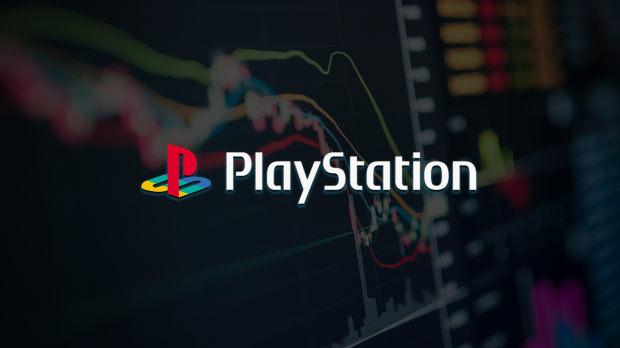 MAUs, or monthly active users, is one of the most important metrics for the games industry. PlayStation, Nintendo, Xbox, and a myriad of game devs and publishers rely on this data to determine the overall health of a platform, whether it be subscription-based like Game Pass or even World of Warcraft or on a more general F2P level like Fortnite and Warzone. MAUs are an extremely useful tool that instantly quantifies the popularity of a platform, which in turn affects engagement and spending.
Back in Q2 (July - September 2022), Sony saw a decline in PlayStation users as MAUs dropped to 102 million, which punctuated a sequential userbase decline from Q3 2021 onward. The games division saw a dramatic reversal in Q3 2022 where it reported its best-ever holiday earnings of $8.8 billion. Several other important milestones accompanied this historic earnings surge, including marked growth in PlayStation monthly active users.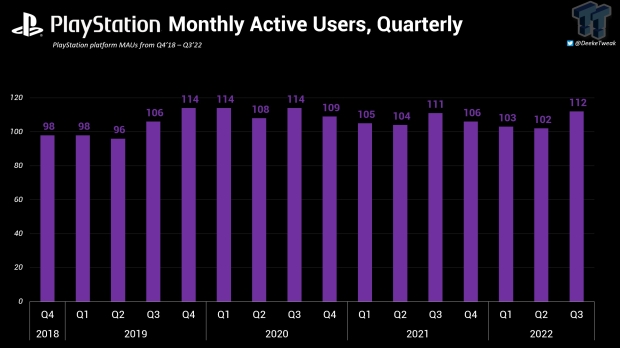 Sony reports that PlayStation MAUs are at 112 million as of December 31, 2022. This represents a quarter-over-quarter increase of 10 million users.
The last time we've seen this kind of substantial MAU growth was the 10 million surge made from Q3-Q4 FY19.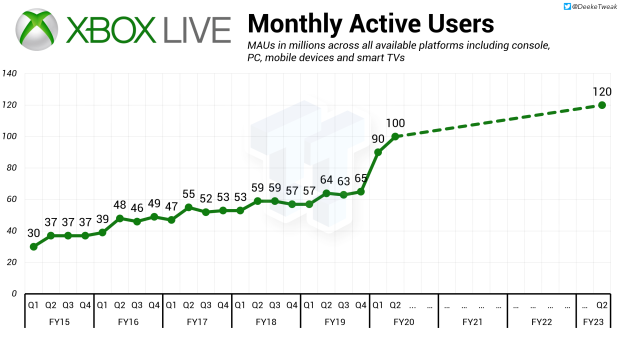 Interesting enough, Xbox MAUs are actually beating PlayStation's. Microsoft had previously confirmed that Xbox MAUs were at an all-time high of 120 million, however we're not exactly sure how Microsoft got these numbers. It's likely that any platform that accesses Xbox games and content--including consoles, PCs, mobile phones and tablets, and smart TVs--are included in the figures.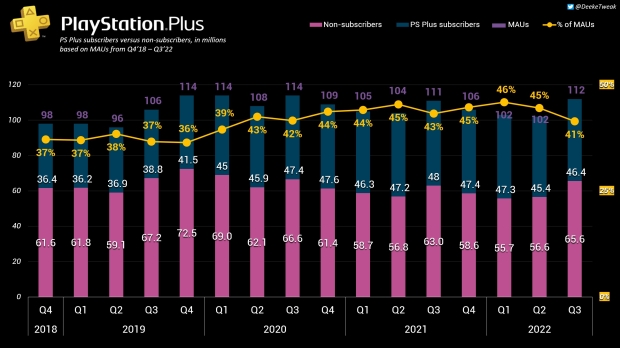 PlayStation Plus subscribers have also stabilized after a 1.9 million drop in subscribers in Q2'22. PS Plus now has 46.4 million users, up 1 million subscribers since Q2. Our findings indicate that most PlayStation users are not subscribed to the PlayStation Plus service.
The increase in MAUs is partly a result of Sony's mighty hardware surge. Sony shipped 7.1 million PS5s during the holidays to eager consumers willing to buy. And buy they did: Sony generated over $3 billion from hardware sales during Q3.
So what does this tell us? Sony's PlayStation platform is ramping up on all fronts as key portions of the games industry are hit by declining year-over-year revenues. This execution is a result of significant investment and infrastructure/logistics planning and may not be sustainable for longer periods of time, however the PS5 platform on-ramping has been interrupted by COVID-19 production chain issues and Sony very much wants to get as many PS5s on the market as possible.
After the install base evens out, the real moneymaking starts with lucrative free-to-play live games and full AAA titles priced at $69.99 a piece.