PlayStation 5 shipments have broken 32 million as Sony reports an incredible quarter for hardware sales.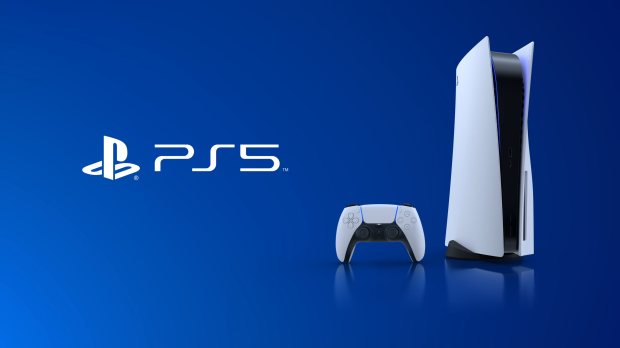 Sony's console sales blitz is paying off big time. The company planned to ship up to 20 million PlayStation 5 consoles this fiscal year, the bulk of which were pushed during the critical Q3 FY22 holiday period. The results speak for themselves.
PlayStation 5 console availability propelled Sony's games business to new heights. The company delivered record PlayStation revenues of $8.8 billion, and hardware represented about 35% of total revenues. Sony shipped a whopping 7.1 million PlayStation 5 consoles in the Holiday 2022 period and pushed total PS5 digital and disc-based system shipments to 32.1 million. The PS5 has finally surpassed PS4 shipments during a Q3 period.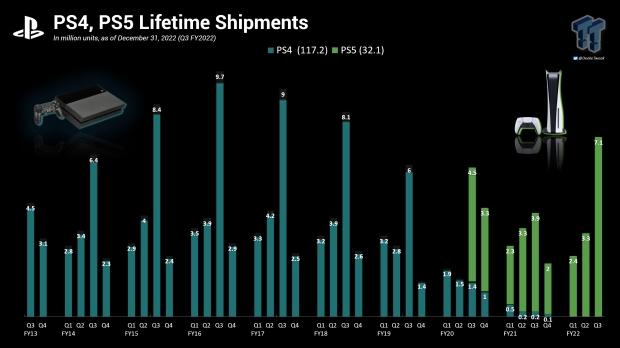 As a result of the shipments and spending sprees, Sony made about $3.11 billion from hardware in Holiday 2022. This is a significant 75% year-over-year increase in hardware sales revenues and represents an boost of over $1.337 billion from last year.
Sony managed to ship more PlayStation 5 consoles and generate more hardware earnings in Q3'22 than it did during the system's launch in 2020, where the pandemic had impaired production, manufacturing, and shipments of electronics.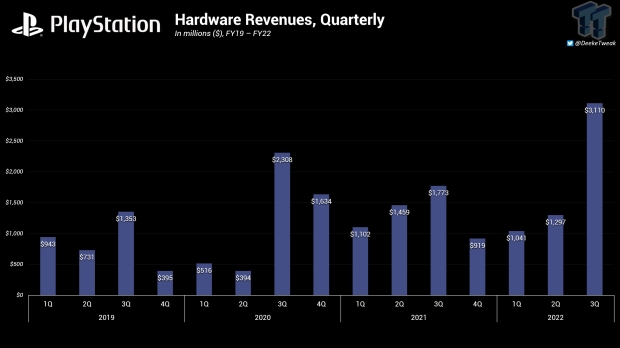 The Japanese tech firm now expects to ship 19 million PlayStation 5 consoles in the fiscal year ending March 2023.
Sony will have to sell 6.2 million PS5s during a Q4 period to hit that goal. This has never been done before by the PS4, and the highest Q4 sales for the popular PS4 console were 3.1 million shortly after the console's launch in Jan - March 2014.