Sacramento Metro Fire District took to its social channels to share information about a Tesla Model S suddenly bursting into flames while traveling down eastbound Highway 50 & Sunrise Blvd.
According to the posts by the fire department, the firefighters arrived at the scene, and the vehicle was already engulfed in flames, and according to the driver, the Tesla Model S began emitting black smoke from under its hood while it was traveling at "freeway speeds". The driver pulled over, and the fire eventually took over the vehicle, causing it irreparable damage. Metro Fire of Sacramento notes that there were no injuries as a result of the incident.
Firefighters had to use 6,000 gallons of water to completely put out the fire as the vehicle's battery cells continued to combust, refueling the fire. Comparatively, a normal combustion engine requires approximately 700 gallons of water to extinguish and typically a single fire truck. Metro Fire of Sacramento states it needed two fire engines, a water tender, and a ladder truck.
So, why does a battery fire require much more water? The Model S is equipped with a lithium-ion battery which contains flammable and combustible materials such as graphite. Additionally, the battery contains cathodes that release oxygen as they are burning. The release of oxygen from the burning cathodes then refuels the fire, making it very difficult to put out.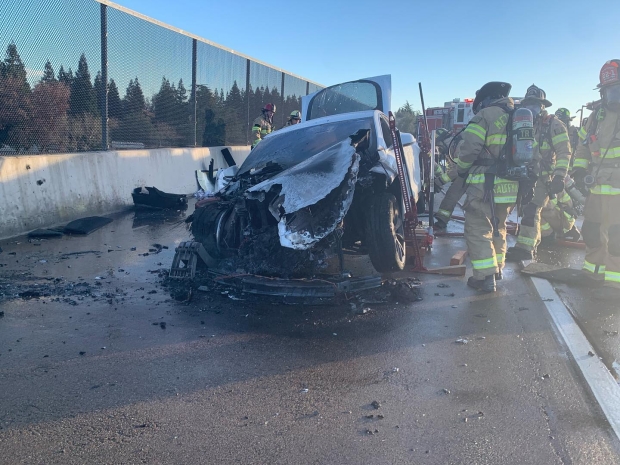 Metro Fire of Sacramento replied to one Twitter user that suggested fire foam to smother the fire and said that method wouldn't be effective as fire foam is designed to smother oxygen. The cathode material would burn through the foam as it continued to break down, meaning the best course of action is to simply hit it with water until it goes out.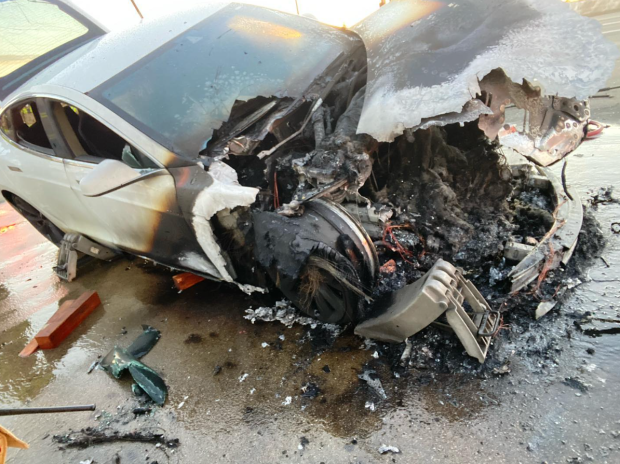 As for why Tesla spontaneously burst into flames, no one really knows at the moment - at least not officially reported. However, this isn't the first time a Tesla vehicle has erupted into flames. In 2019 the car company released an update to preserve battery health after several reports of parked Teslas spontaneously erupting into flames.
If you are interested in reading more recent news, NASA's telescopes have been at work with one capturing a teddy bear face on the surface of Mars and another making a breakthrough discovery out in deep space.