The world's most powerful observatory, the James Webb Space Telescope, has used its instrument to make a breakthrough discovery.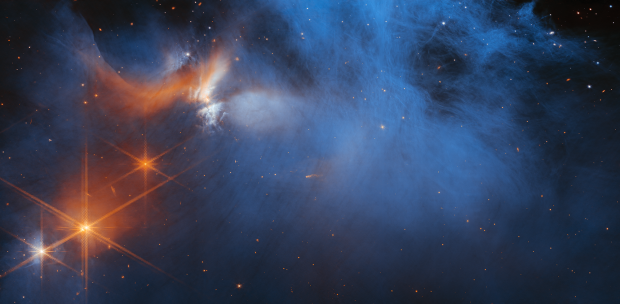 NASA has taken to its blog on its official website to announce that the James Webb Space Telescope (JWST), operated by an international team of astronomers, has discovered an inventory of the deepest, coldest ices measured to date. The space agency explains that knowledge of interstellar ice is very valuable as ices will be a crucial ingredient for building a habitable planet off Earth.
These ices contain vital elements such as carbon, hydrogen, oxygen, nitrogen, and sulfur. Notably, these elements are key ingredients for a viable planetary atmosphere and molecules such as sugars, alcohols, and simple amino acids vital for life. Webb's sensitive instruments were pointed at the Chameleon I cloud located in the southern constellation of Chameleon, some 500 light-years away from Earth.
This stellar nursery is one of the closest star-forming regions to Earth, and for quite some time, researchers believed it featured holes in the sky referred to as 'dark molecular clouds' said to contain dense gas and dust that is so thick light emitted from stars behind them can't penetrate it. However, Webb's highly advanced infrared instruments are capable of piercing these thick regions of dust and gas, allowing astronomers for the first time to peer into regions of space they previously couldn't.
"We simply couldn't have observed these ices without Webb. The ices show up as dips against a continuum of background starlight. In regions that are this cold and dense, much of the light from the background star is blocked, and Webb's exquisite sensitivity was necessary to detect the starlight and therefore identify the ices in the molecular cloud," said Klaus Pontoppidan, Webb project scientist at the Space Telescope Science Institute in Baltimore, Maryland, who was involved in this research.
With Webb's instruments, the astronomers were able to observe the dusty heart of Chameleon I and discovered ices in the early stages of star evolution. The discovered ices were measured and found to be at -440 degrees Fahrenheit, or -263 degrees Celsius, and were at the stage of star evolution right before the cloud collapses and forms a newly born protostar.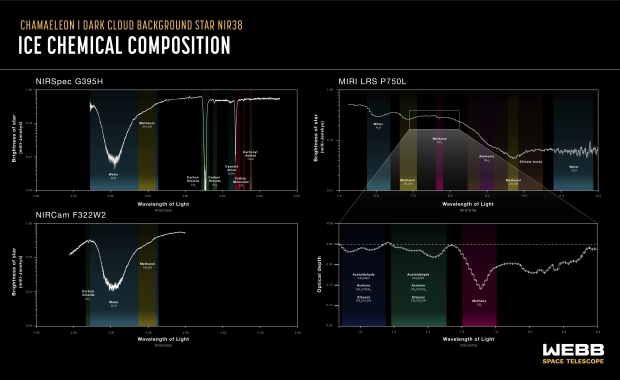 So, how was this done? It was actually quite simple. Astronomers aligned Webb's instruments with two stars behind Chameleon I and used their light to light up the stellar nursery. Using Webb's infrared instruments, the observatory was able to identify the different molecules present within the cloud through their chemical fingerprints. The above image showcases dips in the wavelengths of observed infrared light, indicating specific molecules are present.