A new AMD article titled "Never a Better Time to Upgrade with Radeon Graphics" outlines the reasons to choose either an AMD Radeon RX 7000 or 6000 Series graphics card but ends up making RDNA 3 cards like the Radeon RX 7900 XT look like poor choices.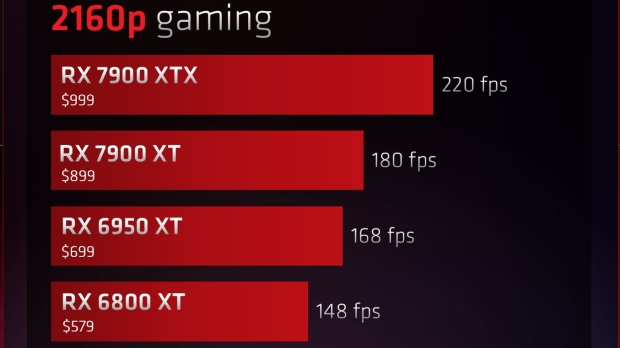 The pricing surrounding the new flagship GPUs from AMD and NVIDIA has been one of the most talked about parts of the next generation of PC gaming tech. Especially when it comes to the models that sit right below the top - the GeForce RTX 4080 and the Radeon RX 7900 XT.
Starting with the GeForce RTX 4090 (USD 1599) compared to the GeForce RTX 3090 (USD 1499), we see a massive leap forward in 4K gaming performance. And a slight difference in launch pricing. It's a similar story for the flagship AMD Radeon RX 7900 XTX (USD 999) compared to the AMD Radeon RX 6900 XT (USD 999), which also presents a giant leap forward in terms of 4K and ray-tracing performance.
High pricing for the top-end cards has been something PC gamers have become used to, though it's the pricing of the GeForce RTX 4080 and the Radeon RX 7900 XT models that became the most significant point of concern based on their equivalent previous generation counterparts. As costs for last-generation cards came down, the Radeon RX 6950 XT now costs around USD 699.99.
And so we can understand the reasoning behind this new post, but charts like this make the Radeon RX 7900 XT look like a bad choice for PC gamers. Compared to the RX 6950 XT, the graph showcases a 7% performance uplift for 30% more cost. It's worse when the card is compared to the RX 6800 XT, with a 22% increase in performance for a whopping 66% more money.
Then there's this chart, which covers 1080p performance and cost-per-frame. It's meant to make the new Radeon RX 7000 series look like a great value proposition, but it ends up making everything from the RX 7900 XTX (USD 999) down to the RX 6800 XT (USD 579) look the same - on account of 1080p gaming being the realm of lower-tier models. And cards like the 7900 XT and XTX hitting hard CPU bottlenecks.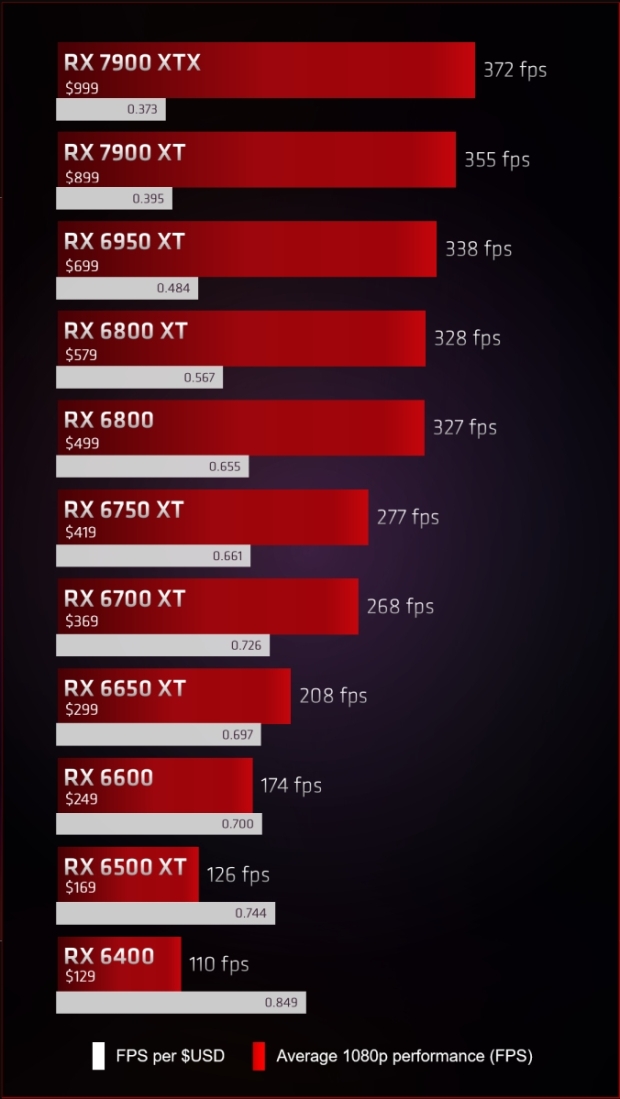 When Radeon RX 7900 XT (and the GeForce RTX 4080) launched, several reviewers and industry reporters questioned whether the impressive performance was worth the cost of entry. On NVIDIA's side, the marketing focus has been around DLSS 3 and another new tech exclusive to the Ada generation. On the other hand, AMD has been positioning RDNA 3 as a better value option based on pricing alone. That's the story this "Never a Better Time to Upgrade with Radeon Graphics" article is meant to tell, but it falls flat.