When we think about product endorsements, it's easy to go the cynical route and think about the monetary and advertisement side - like product placement in movies. When it comes to the sporting world, though, it's pretty much the opposite, where an endorsement is often a sign of quality.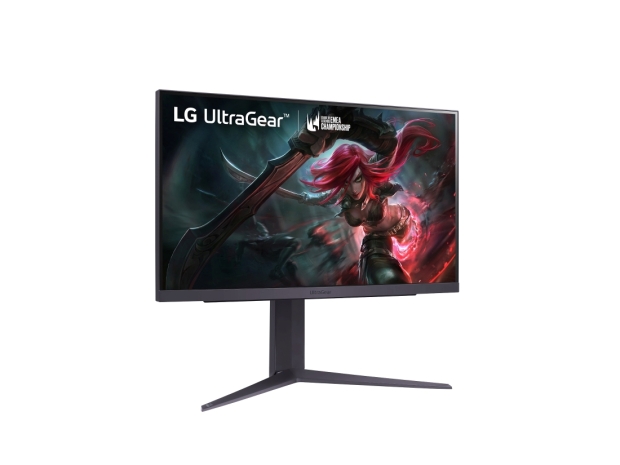 Competitive League of Legends is one of the most watched and celebrated esports, and when it comes to fast-paced gaming played at the level, displays need to be exceptional in the critical areas of refresh rate, response times, and support for VRR technology like NVIDIA GSYNC.
So, when LG lets us know that its UltraGear gaming monitor, the 25GR75FG, has been named as the official display of the League of Legends EMEA Championship (LEC) in 2023, that means it's an excellent esports display.
The borderless 24.5-inch Full-HD (1,920 x 1,080) display sports a 360Hz refresh rate IPS panel, 1-millisecond Gray-to-Gray (GTG) response time, and NVIDIA G-SYNC and NVIDIA Reflex integration. Even though displays designed for esports aren't precisely known for achieving the highest levels of color accuracy (you've got 97% of sRGB here), the addition of VESA Display HDR 400 is fantastic.
LG notes that this new monitor has also been created in collaboration with LEC players to ensure its design, features, and capabilities are at a level suitable for professional play.
"We are delighted to announce the continuation of our partnership with LG for the upcoming LEC 2023 Season," said Eva Suarez, head of partnerships for EMEA at Riot Games. "We're dedicated to providing our competitors with the best gaming experience possible and the new LG UltraGear gaming monitor will go a long way in offering our League of Legends pros outstanding picture quality every time they step onto the LEC stage."
"LG is very excited to introduce the 25GR75FG at the upcoming LEC 2023," said Seo Young-jae, head of the IT business unit of LG Electronics Business Solutions Company. "Super-fast gear fine-tuned for the demands of professional esports, our incredible high-performance display will be in the thick of the action as the best teams in the EMEA region play for victory. LG UltraGear will continue to support LEC and help foster the growth of esports worldwide."
And you'll see it in action as the LEC season kicks off this weekend.