Looking for a dock for your Steam Deck that offers quick charging and expansive connectivity? Check out Sabrent's latest USB-C docking station.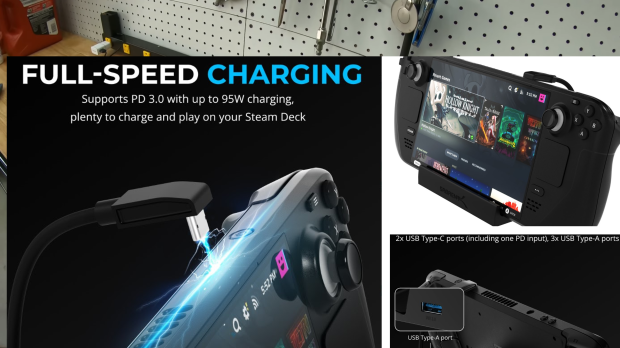 SSD-maker Sabrent has introduced its new 6-port DS-SD6P Docking Station that could be the best Steam Deck on the market so far. The dock station merges utility with functionality, offering an all-in-one solution for video output from slotted devices that support DisplayPort Alternate Mode (like the Steam Deck or the Nintendo Switch) at up to 4K 60FPS. The dock can simultaneously charge devices and output video, and uses PowerDelivery 3.0 to deliver up to 95W of charging power over USB-C.
Sabrent's 6-power docking station has 2x USB Type-C ports (one of which supports PowerDelivery and is used for input power for charging), HDMI 2.0 video output, and 3x USB Type-A ports for peripheral devices such as mice, keyboards, and external storage. The dock's low profile ensures devices have lots of clearance and ample breathing room, unlike the Nintendo Switch's OEM dock which effectively sandwiches the tablet in in a U-shaped design.
Sabrent notes that the dock is compatible with various operating systems like Windows, macOS and Linux, and works well with the Steam Deck.
This docking station has a minimalist design, so it doesn't get in your way, and it goes with everything. The sturdy, non-slip base makes sure it stays in place. It matches the Deck without the high cost and fits other USB-C devices like iPads, tablets, phones, and more.
Pricing and availability have yet to be announced but we should have updates soon.