CES 2023 - ASUS' Republic of Gamers lineup has revealed the Raikiri Pro enthusiast controller with interesting new features.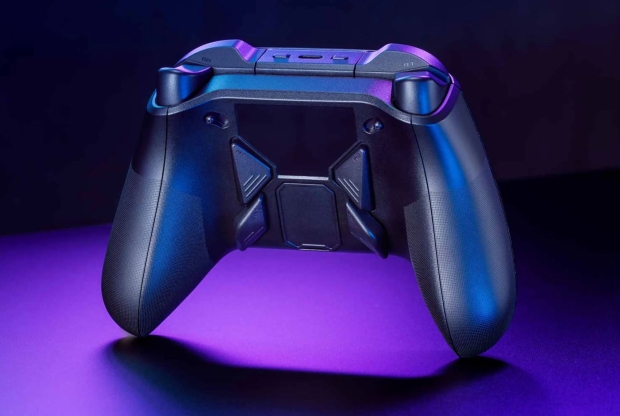 The ROG Raikiri Pro is yet another premium enthusiast-grade controller coming to the market in Q1 2023. What makes the Raikiri Pro stand out from other gamepads is the small built-in OLED panel strip that can add extra flair.
Users can display custom images on the strip, but it's pretty small at 1.3 inches, offers 128x40 resolution, and is limited to just grey. The strip will show various things like battery life and which profile is currently set--gamers can switch between multiple custom profiles--and can even display animated GIFs.
Another unique aspect of the Raikiri Pro is what ASUS calls tri-connectivity; the controller can connect in three different ways including 2.4GHz RF, Bluetooth, or wired via USB-C. The gamepad is compatible with Xbox One, Xbox Series X/S, and PC systems, however it will require a USB adapter to connect wirelessly to Xbox consoles.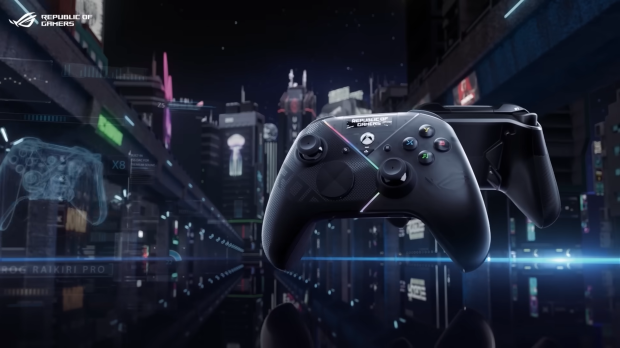 What I find most interesting about the Raikiri Pro is its take on adaptive trigger designs. ASUS calls these step triggers and there's a button that enables two modes: Full trigger mode, which is full range of motion, and short trigger mode that locks the travel distance of each trigger pull. Gamers can use ASUS Armory Crate dashboard to significantly customize settings including dead zones and more.
The ROG Raikiri Pro is due out sometime in Q1 2023. Pricing has yet to be revealed and for more info including tech specs check below: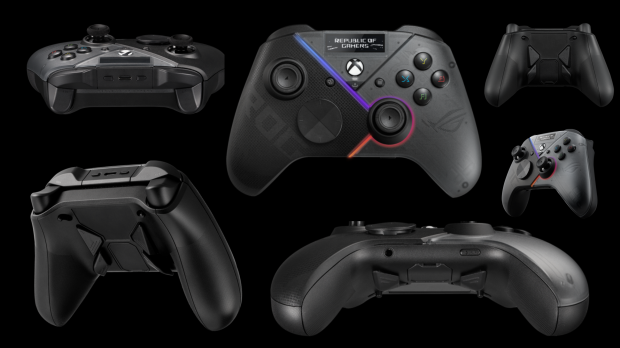 ROG Raikiri Pro

The ROG Raikiri Pro PC Controller features a built-in OLED display, tri-mode connectivity, four rear buttons, selectable step triggers, an ESS DAC, plus adjustable joystick sensitivity and response curves. The ROG Raikiri Pro is ideal for PC gaming and next-gen Xbox consoles.

Built-in OLED display: Create a unique look with customizable animations, view status indicators, and switch profile on-the-fly

Tri-mode connectivity: Versatile flexibility with wired USB-C®, low-latency 2.4 GHz RF, plus a Bluetooth® mode

Intuitive rear controls: Four left and right buttons can be programmed for in-game commands or for on-the-fly joystick sensitivity shifts

Selectable step triggers: Left and right triggers can be set to short- or full-range modes, with dead zones customizable in Armoury Crate

Premium sound: Built-in ESS DAC for immersive audio; plus 3.5 mm earphone jack, and a mute button

Extensive customization: Remap buttons, change joystick sensitivity, or make other adjustments via Armoury Crate
ROG Raikiri Pro Specs
Compatibility
Windows 10

Windows 11

Xbox Series X|S

Xbox One
Connectivity
Weight
Dimensions
103(W) x 64(H) x 155(L) mm
I/O port
OLED
1.3" with 128 x 40 resolution, 2 grey level
Audio output
3.5 mm analog audio port compatible for Xbox and PC (Windows)
Microphone input
3.5 mm analog audio port compatible for Xbox and PC (Windows)