World's first 100% wireless 4K OLED TV spotted at CES
Displace plans to disrupt the market with the world's first 100% wireless 4K OLED panel, complete with swappable batteries that last up to 180 hours.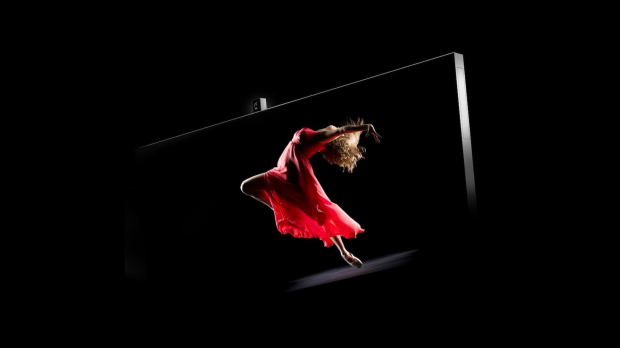 VIEW GALLERY - 2
Published
3 minutes & 10 seconds read time
CES 2023 - Tech startup Displace will showcase the world's first 100% wireless OLED 4K UHDTV at the Consumer Electronics Show in Las Vegas, Nevada.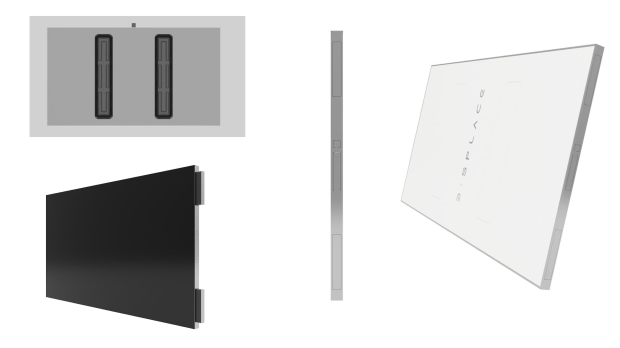 CES is a mecca for experimental concepts that redefine what's capable in today's high-end tech. In the past, we've seen foldable and rollable displays from the likes of LG, and now we're about to see a completely wireless TV. The unit will be shown off formally on January 5, but a show model was spotted by tech influencer Vincent Tech on Twitter.
The new tech comes from Displace, a startup who plans to change television as we know it with the company's self-powered and portable 4K OLED TV. The wireless TV features a 55-inch 4K OLED LG display and has no built-in ports--no HDMI, USB, antennae, etc--or cables, and is powered by batteries that can be hot swapped in and out of the unit's back panel.
Batteries are expected to last up to 180 hours on a single charge, offering "about a month" of charge with 6 hours of viewing a day. The device is completely wireless but it still requires a separate "base unit" box to be plugged into an electrical socket.
Media is served to the device remotely via a Wi-Fi module at the top of the display in a Plex-style local streaming setup.
The Displace wireless TV may also be game and app ready, and could better support services like GeForce Now and Xbox Cloud Gaming with its built-in AMD CPU and NVIDIA GPU. The specifications of these built-in chips were not outlined by the company so we don't know how much processing power the device is packing.
Apart from the battery-powered setup, the other unique aspect of the display is how it can stick to any wall. The panel has proprietary vacuum-sealing technology that allows the panel to literally attach itself to surfaces. VESA mounts, brackets, or arms are not needed, Displace says.
There's also no remote control. The Displace TV is controlled via movements and gestures thanks to a built-in camera system.
"Displace TVs are primarily controlled by natural hand gesture movements, in addition to touch and voice interfaces, making it easy to browse, play and control content using hands. They also utilize facial recognition and computer vision technology, which enables content on Displace TVs to seamlessly switch between rooms when users move."
No information on pricing or a release
Displace TV Features and Specifications:
A Truly Wireless TV: Displace TV has no wires and no ports. Long-lasting rechargeable batteries utilize Displace's proprietary hot-swappable battery system.
Simply Stick TV to Any Wall: Super lightweight 55" 4K Displace TV uses proprietary active-loop vacuum technology - no wall mounting required.
Create Any Size TV: Snap multiple 55" 4K Displace TVs together to create any size TV - such as combining four TVs to create a 110" TV with 16K resolution.
Interact with Hand Gestures - No More Remote Controls! Users can easily browse and play content on Displace TV using their hands in addition to touch and voice interfaces. Users simply push with their palm to play; pinch to zoom in or out; or literally reach out and grab what's on the TV and throw it onto another Displace TV in the home. Content magically moves from one Displace TV to another when the user moves between rooms via proprietary computer vision technology.
What's in the Box:
55" 4K wireless Displace TV (one, two or four TVs, pending package purchased)

Battery charging unit

One base unit

Dimensions: 48.2" width x 27.5" height, and 1.2" thick

Hardware Specifications:

Displace TV: 55" OLED panel, 4K camera, Wi-Fi 6E

Base unit: AMD CPU, NVIDIA GPU, Wi-Fi 6E

Batteries: Four rechargeable batteries per TV and battery charging unit

Battery Life: One-month of total battery life for each Displace TV, based on average usage of six hours per day; Batteries can be charged individually while the TV remains fully functional.

Where to Buy: Displace TV website

Launch Market: U.S.
Related Tags