GIGABYTE DES press conference
Go green with GIGABYTE.
Published Thu, Jan 17 2008 6:07 PM CST
|
Updated Tue, Nov 3 2020 12:38 PM CST
Over the last week we've covered just about every angle of GIGABYTE's new DES technology, so we thought we'd give you one last DES related story; a quick report from the press conference. Although it was all in Chinese, we acquired an English version of the presentation that we'll do a brief summary of for you.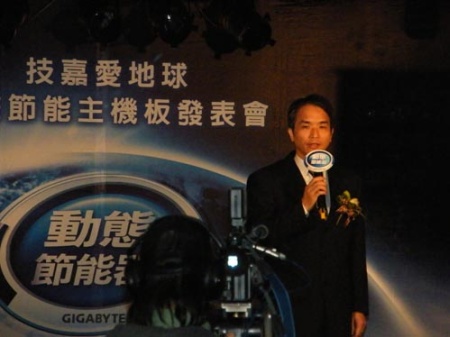 It all started with a quick speech and presentation by GIGABYTE's Senior VP, Richard Ma. He was talking a little bit about what GIGABYTE is trying to do to help the environment and DES is one step towards that, as the company is expecting to ship no less than one million DES enabled motherboards this year alone. That could result in a rather large overall power saving if all those users take advantage of DES, although the current range of boards is somewhat limited but expect to see DES on just about every single motherboard from GIGABYTE by the end of the year.
Next up was the General Manager of Intel Taiwan which suggested that DES in combination with Intel's 45nm CPUs was the best combination for a low power but high performance desktop system. Next up was a couple of local distributors, but we're not going to spend any time on them, as they're not really relevant.
Finally there was a slightly longer presentation by Rockson Chiang, the technical marketing manager at GIGABYTE and he had some valid points. The beginning of the presentation talked about global warming, the rise of CO2 emissions and the increase in power consumption. Next up was a bit of a background to DES, pretty much the same information that you can find here and which we've already talked about. Then there was a live demo of DES and some more bits on how it works.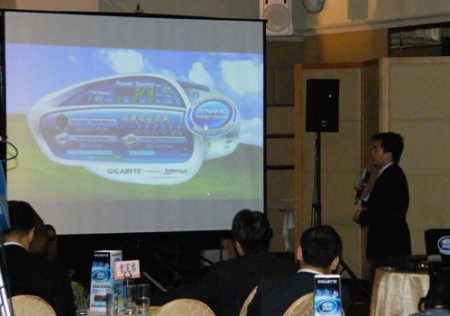 The maybe most interesting part is GIGABYTE's performance testing with DES enabled and disabled. Although we haven't done this yet, their results are quite interesting as the overall system performance hit with DES enabled is very low. In PCMark05 the biggest performance drop was in the memory benchmarks, but we're talking 1.3% here, hardly a big number. Oddly enough, the hard drive scores increased with DES enabled and one of the GIGABYTE technical marketing team members told us that they'd re-run this test several times to make sure the numbers were correct.
Similarly, in 3DMark06 the drop is minor, although the biggest drop was in the Shader Model 2.0 test which was 3.5% slower. The only thing missing was the system specs, so we can't really tell you how this will reflect on your system. From what we were told the performance difference as well as the power saving will depend on the CPU as well as the overall system configuration to some degree. There were also some calculations on how much money you could save, but interestingly enough also how much CO2 emissions would be reduced.
The example was based on a saving of 12W per hour over a year and on an 8h usage scenario you'd save 96W which is 6g of CO2. GIGABYTE has estimated the global PC usage per day to 140 million computers and at 8h a day. This would save an enormous 13.44 billion (that's US billion) Watts and some 8,574.7 tons of CO2. A funny bit on the end would be if the CO2 was offset into trees, then there would be 18,804 trees planted every day just based on this saving. But as hardly anyone is using DES today we're not really seeing any savings at all.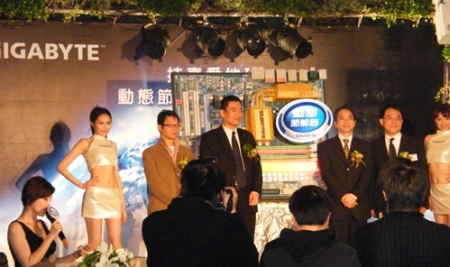 DES is just part of GIGABYTE's ongoing green scheme; the company has also joined the climate savers and has started a competition for system integrators in Australia to see who can build the lowest power system based on one of the DES motherboards. GIGABYTE is also putting in place a wide range of new company policies to improve its general power saving and environmental contribution by doing things like switching off the lights in its offices during lunch, make sure everyone turns off their computers when they leave the office, use less paper and water and more recycling of office and factory waste. All good and well, let's hope more companies follow suit.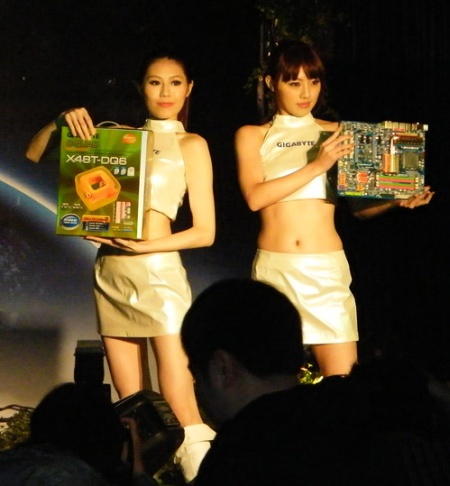 Last, but definitely not least we also bring you a couple of pictures of two DES boards that haven't been shown before, the X48-DS5, the first in a new range of overclocking boards from GIGABYTE as the DS5 series will start to target overclockers more so than other boards from GIGABYTE.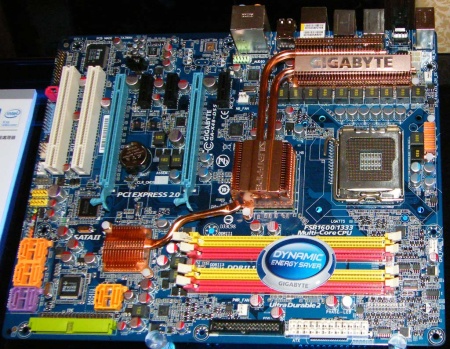 Then there is the EX38-DS4, which will be GIGABYTE's only X38 product once the X48 chipset launches.