Saitek launches new Cyborg accessories
Mouse, keyboard and more.
Published Thu, Nov 1 2007 1:44 AM CDT
|
Updated Tue, Nov 3 2020 12:38 PM CST
Saitek has launched a new range of PC peripherals under the Cyborg brand, which it has used for some time for some of its gaming accessories. Although it announced the availability of the new Cyborg Command Unit, the Cyborg 5.1 Headset and the Cyborg Rumble Pad some time ago, the company has now added a Cyborg Mouse and Keyboard to the lineup.
The mouse features a 3,200dpi laser sensor which puts it right in there with the high-end gaming mice from all the big players. It has a range of fairly common features such as a pair of programmable buttons, but it also has some rather unusual ones like a four-way low profile hat switch.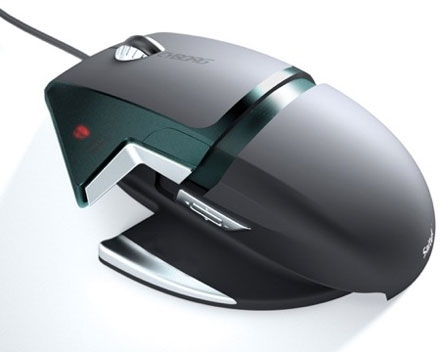 Two even more unusual features are the fact that you can adjust the length of the mouse and the fact that the power required to click the scroll wheel can be adjusted, which it something we'd like to see on more mice, as some have very stiff scroll wheels. Apart from this there's very little information about this mouse, but from the pictures it appears to have a small LED which indicates the DPI setting and the scroll wheel also seems to be backlit. It connects via USB 2.0 and it compatible with 64-bit operating systems.
No wording on price as yet, but apparently Amazone.co.uk lists it for 29.99 or just over US$60, but the SRP seems to be 39.99 or just over US$80, which seems quite steep. The availability date is the 11th of January 2008.
The Cyborg Keyboard is a different animal all together and it builds on Saitek's Eclipse keyboards by having backlit keys. The W, A, S and D keys as well as the cursor keys and the space bar are all lit through as well as to make them easier to find. They're also metal plated and as such silvered coloured to make them even easier to locate.
New features include "Cyborg" keys on both sides of the keyboard and there are a total of 12 of these. There's also a backlit, touch-sensitive dashboard on top of the keyboard which allows you to control a wide range of things such as volume etc.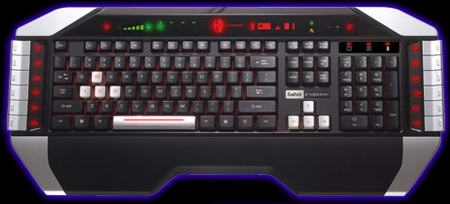 It also has gold plated connectors and pass-through for USB as well as headphones and mic. It's also meant to handle multiple simultaneous key presses better than your average keyboard. Finally it comes with an adjustable wrist rest. Again it will work with 64-bit version of XP and Vista.
You can find the Cyborg product range
here