GPU-Z v2.44.0 released: supports AMD, Intel, and NVIDIA's latest chips
AMD, Intel, and NVIDIA's latest CPUs and GPUs are all supported by TechPowerUp GPU-Z v2.44.0 -- including the new RTX 3050.

Published Wed, Jan 26 2022 6:28 PM CST
|
Updated Tue, Feb 22 2022 12:07 PM CST
TechPowerUp has released the latest version of GPU-Z with GPU-Z v2.44.0 supporting a bunch of new chips -- including new designs from AMD, Intel, and NVIDIA.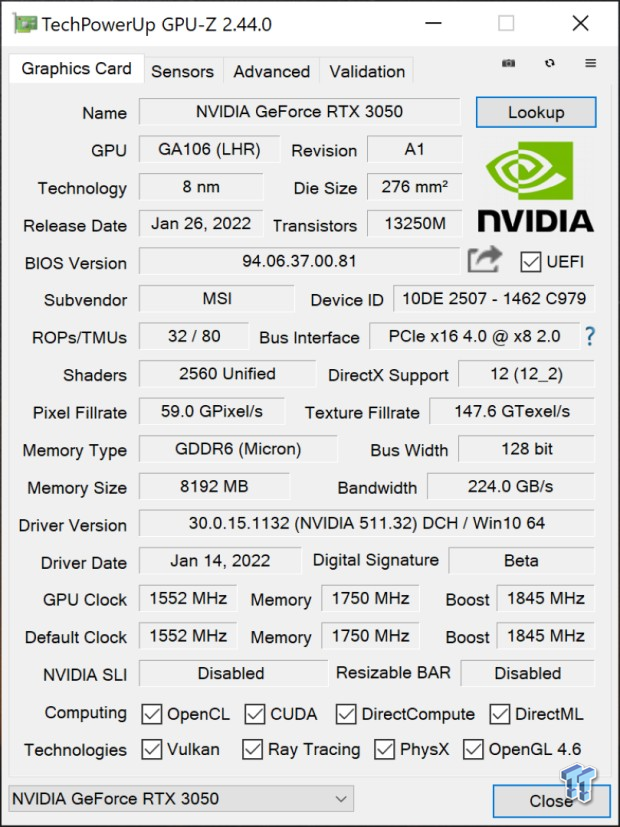 GPU-Z 2.44.0 has support built-in for the NVIDIA GeForce RTX 3050, RTX 3080 12 GB, RTX 3070 Ti Mobile, RTX 3050 Ti Mobile (GA106), RTX 2060 12 GB, GT 1010, MX550, GTX 1650 Mobile (TU117-B), RTX A2000 (GA106-B), RTX A4500, A10G, A100 80 GB PCIe, CMP170HX, and the CMP70HX... and that's just NVIDIA.
Moving onto AMD, GPU-Z v2.44.0 supports the Navi 24-based Radeon RX 6500 XT, RX 6400, RX 6300M, RX 6500M, PRO W6300M, PRO W6500M, and PRO W660M. Intel has new support with GPU-Z v2.44.0 with its new 12th Gen Core "Alder Lake" non-K processors, Alder Lake mobile processors, and Xeon processors based on the Rocket Lake CPU architecture are now supported.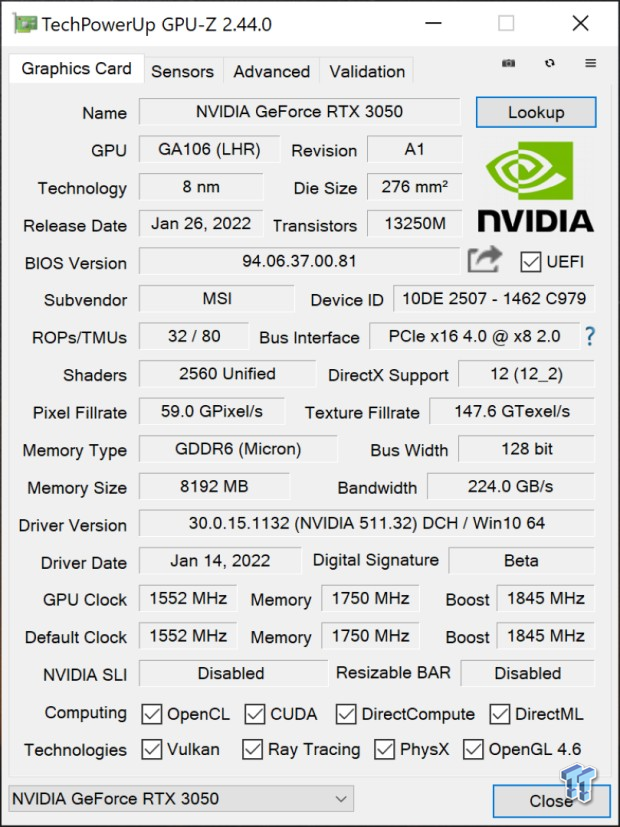 Improved Resizable BAR detection to work better with some edge cases

BAR sizes are now reported in in Advanced Panel -> Resizable BAR

GPU-Z will report "Vista 64" as operating system, not "Vista64"

Screenshots will now be uploaded using https

Added vendor detection for Vastarmor

Fixed some GeForce RTX 3060 cards getting labeled as LHR

Updated release date for AMD Radeon RX 6600

Added support for NVIDIA GeForce RTX 3050, RTX 3080 12 GB, RTX 3070 Ti Mobile, RTX 3050 Ti Mobile (GA106), RTX 2060 12 GB, GT 1010, MX550, GTX 1650 Mobile (TU117-B), RTX A2000 (GA106-B), RTX A4500, A10G, A100 80 GB PCIe, CMP170HX, CMP70HX

Added support for AMD Radeon RX 6400, RX 6500 XT, RX 6300M, RX 6500M, W6300M, W6500M, W6600M

Added support for Intel Alder Lake non-K SKUs, Alder Lake Mobile, Rocket Lake Xeon
Related Tags