Dying Light 2 only takes 20 hours to beat, Techland clarifies
Dying Light 2's main storyline only takes 20 hours to beat, 80 hours if you want to beat all missions, Techland has clarified.
Published Jan 11, 2022 10:05 AM CST
|
Updated Sat, Feb 5 2022 6:26 AM CST
1 minute & 40 seconds read time
Following the reports of Dying Light 2 being 10x as long as Breath of the Wild, Techland jumps in to add much-needed perspective on their new open-world game.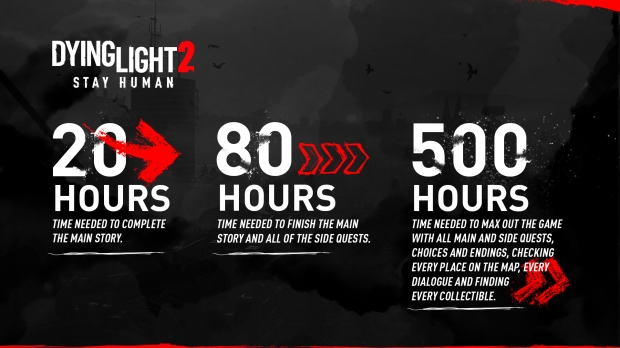 Dying Light 2 is a huge game--the biggest Techland has made--that can last up to 500 hours if you do and see everything in the game. If you're not a completionist and just want to play the main storyline, you're looking at around 20 hours of playtime. The developer also says that it'll take roughly 80 hours to beat the main story and complete all the side quests, which is about 60 hours worth of optional missions, quests, and content.
If you're a hardcore enthusiast then you can spend hundreds of hours in Dying Light 2. Techland says the 500+ hour figure comes from QA testers who have done everything possible in the game; every quest, side quest, multiple choice endings, uncovering the entire map and finding item and collectible within the huge world.
Dying Light 2 releases February 4, 2022 on PS4, PS5, Xbox One, Xbox Series X/S, and PC.
We wanted to clarify our recent communication about the amount of hours required to complete the game. Dying Light 2: Stay Human is designed for players with different gameplay styles and preferences to explore the world how they see fit. There is no single "correct" way of playing our game, and the exact time always depends on the play style.

Main Story: If you choose to focus on the main story alone, you can finish it in about 20 hours.
Deeper exploration (Main story + Side quests): If you'd like to explore more of our broad, complex, vertical open world, you'll need about 80 hours to immerse yourself into the story, go through the side quests and engage with the characters.
Complete Playthrough: Our QA tests show it takes about 500 hours to check everything that the game offers - find all the collectibles, listen to each dialog, fetch all Easter eggs, finish all possible endings and visit every corner of the world.

For comparison, in Dying Light 1 you can finish the main story and side quests in 30 hours, but we are seeing some players investing hundreds of hours into the game.
Related Tags