ABIT launches IX38 QuadGT
Another DDR2 X38 board.
Published Fri, Oct 12 2007 3:37 AM CDT
|
Updated Tue, Nov 3 2020 12:38 PM CST
Abit is a day late with their announcement, but the company also has an X38 board ready to go and it's the IX38 QuadGT. Abit has managed to implement a few interesting features into this board and some rather odd ones too. It's a DDR2 board and it supports memory speeds of 800 and 1,066MHz as well as CPU bus speeds of 1,600MHz.
Abit has gone with a digital PWM design and this seems to have been something of a fad and many of the motherboard manufacturers we've talked to aren't too keen on using this type of PWM as they claim it's not great for overclocking. However, it does reduce the component count on the motherboard and allows for a much cleaner area around the CPU socket.
Abit on the other hand seems to claim that it only has advantages, such as lower noise interference, longer component life span and lower heat output. The IX38 QuadGT has a rather interesting cooling design as well, with the digital WPM being cooled by a separate heatsink which ducts the heat out through the I/O shield. The chipset on the other hand is cooled by a heatpipe solution which goes from the ICH9R to the X38 chipset and then onwards to a small heatsink which is parallel with the memory slots.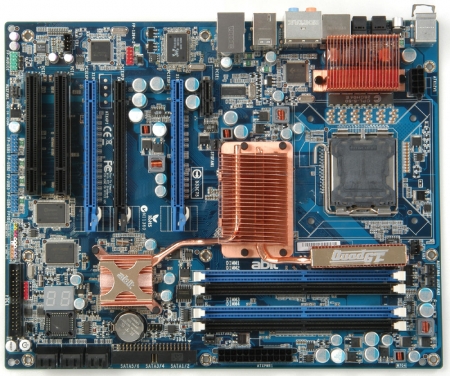 Click to enlarge
Other handy features include a rear mounted CMOS reset button, onboard power and reset switch and a utility that allows you to monitor the temperature not only of the CPU and the system, but also the digital PWM, something we think is a first.
Further board features include dual eSATA, optical S/PDIF in and out, 7.1-channel Dolby Digital and DTS audio, Gigabit Ethernet, FireWire and of course a pair of x16 PCI Express 2.0 slots. There's also a third x16 slot which has x4 bandwidth, a x1 slot and two PCI slots.
If Abit holds true to what they showed at Computex earlier this year, then we can expect to see a DDR3 X38 board at a later stage.
You can find the IX38 QuadGT product page
here