RV670 pictured in CrossFire
WCG '07 is the place.
Published Mon, Oct 8 2007 2:23 AM CDT
|
Updated Tue, Nov 3 2020 12:38 PM CST
The Inquirer has a few pictures up of a pair of AMD's upcoming RV670 cards running in CrossFire. The pictures of the cards were snapped at the World Cyber Games in Seattle and it looks like AMD is keen to show off its new hardware. Normally you'd expect to see one card when something new like this is being shown off to the general public, but considering the perceived performance of these cards, it might not be a bad move by AMD.
The test system belonged to Sapphire and they'd got their hands on one of the brand new Thermaltake cases we wrote about last week. The motherboard is also brand new, although Theo mentions that it's Sapphire's own creation, we can tell you that it's not, it's been source from a well known performance motherboard manufacturer here in Taiwan. The RD790 board would've been an early sample as well, since the manufacturer is as far as we know not quite ready for mass production of these boards.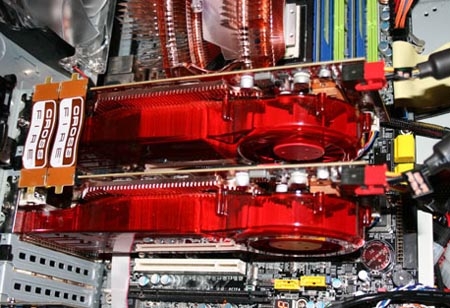 And if this wasn't enough, the machine was powered by a quad core AMD Phenom processor as well, so it looks like AMD was going the whole nine yards to show if its latest and greatest hardware. The board had two PCI Express 2.0 slots, but the graphics cards were still plugged into the PSU via a single 6-pin PCI Express power connector. There shouldn't be any need for this, but due to the low volume of PCI Express 2.0 motherboards on the market, we can see why AMD took this approach.
The cards where apparently not marked with any kind of distinguishing model names, but the dual slot cooling solution is suggesting to us that these are the faster cards and so does the fact that Theo mentions that each card had 512MB of GDDR4 memory. It won't be long now until all these new toys will launch and everyone is pretty much just waiting for AMD to give the go-ahead. So please AMD, let us have these new shiny bits to play with some time really soon...
You can check out Theo's piece over at the
Inquirer