Nvidia working on a new 8800GTS
Gets more stream processors.
Published Thu, Oct 4 2007 12:54 AM CDT
|
Updated Tue, Nov 3 2020 12:38 PM CST
According to a news post on TechPowerUp, Nvidia is working on a new SKU of its 8800GTS GPU. The plain and simple reason for this is that the upcoming 8800GT is going to perform very similar to the current 320MB 8800GTS. The new version will be a 640MB card and Nvidia has gone from 96 to 112 stream processors to make sure that these new GPU's can hold their own against the 8800GT.
It will also make the new 8800GTS move closer to the 8800GTX which has 128 stream processors. The stream processors in the G80 series of GPU's are configured in eight banks of 16 and this means that the new 8800GTS only has one of those banks disabled. We don't know if this has been done on purpose or if Nvidia are using chips that are slightly defective.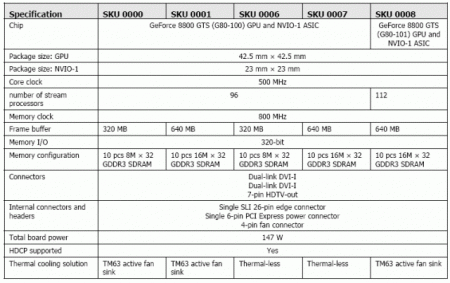 Click to enlarge
Nvidia will not be launching this new chip, it will just replace the current crop of 8800GTS GPU's as and when it becomes available. Some of the card partners might though, since it should offer better performance than the current card. The 320MB will also be dropped, so the new 8800GTS will only be available as a 640MB card.
This also seems to be an indication that Nvidia are concerned about how well the RV670 will perform and they're looking to counter it before it's even out. Everything else such as clock speeds and bus width will remain the same as the current cards. With the 8800GT rumoured to start at US$199 for the 256MB version and $249 for the 512MB version it seems like Nvidia wants to try to keep these more expensive GPU's for more high-end cards at a higher price point so they don't end up underselling themselves.
You can check out the post on TechPowerUp
here