HP to launch Blackbird 002 gaming PC
Based on Voodoo tech.
Published Thu, Sep 6 2007 2:52 AM CDT
|
Updated Tue, Nov 3 2020 12:39 PM CST
HP has launched a dedicated site for its upcoming Blackbird 002 high-end gaming PC and it looks like one sweet machine. A lot of the technology in the Blackbird 002 comes from HP's Voodoo PC purchase and the brains of Rahul Sood. The Blackbird 002 even features a Voodoo DNA logo inside the chassis to show that this system is something special.
Not only is it gorgeously designed, but it's also really tidy inside, something we can't say about some HP PC's we've seen in the past. It's possibly the cleanest build we've ever seen. It's also got a lot of interesting design features such as water cooling by Danish Asetek, a special airflow system and a unique stand that the whole case rests on.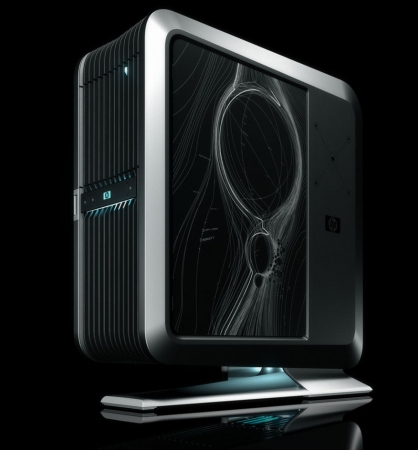 But a good design is nothing if the hardware inside it doesn't back it up and the Blackbird 002 has enough grunt in it to please even the most demanding of users. You have a choice of Core 2 Duo/Quad/Extreme CPUs as well as the AMD Athlon X2 6000+ and this can be combined with a selection of DDR2 memory with the top of the range option being from Corsair.
The motherboard in the Intel rig is an Asus Republic of Gamer Striker Extreme based on the Nvidia 680i SLI chipset. Graphics card options range from dual 8800 GTX cards (oddly enough the Ultra doesn't seem to be on offer) to 8800 GTS and 8600 GTS if you want Nvidia and Radeon HD 2900 XT with 512MB or 1GB or the Radeon HD 2600 XT if you want AMD.
Other options include an Ageia PhysX card, although HP is listing it as a PCI Express card, something we didn't know was available from Ageia currently. There are five hard drive bays and HP offers a wide range of drive options here from a 150GB 10,000 rpm WD Raptor to a RAID array with drives ranging from 320 to 750GB. The optical drive bays are quite odd, as the Blackbird 002 features a single 5.25in drive bas as well as two slim drive bays for slot loading laptop style drives.
It's also got a very neat popup panel at the top that houses a multi format card reader, a FireWire port, two USB 2.0 ports and a headphone and mic jack. HP also offers the Blackbird 002 with two different X-Fi cards as an option over the onboard HD audio of the Asus motherboard. The PSU is a massive 1,100W and should have plenty of juice to power the machine.
The price you're asking? Well, it doesn't seem like the Blackbird 002 will come with a monitor or any speakers or other accessories at that, which make this one of the most expensive base units ever. The starting price is US$2,500, but this is for the standard version, the LC and LCi models are even more expensive and the top of the range model is currently listed at US$7,100 which is a shed load of cash to spend on a computer, no matter how good it is.
You can check out some more pictures and information
here