Flooding blamed for massive explosion at an aluminium plant in China
A gigantic explosion at an aluminum plant in Dengfeng, Central China's Henan Province -- blamed on flooding, looks insane.

Published Tue, Jul 20 2021 9:33 PM CDT
|
Updated Thu, Aug 19 2021 12:16 PM CDT
An absolutely gigantic explosion in China has rocked the area, with an aluminum alloy unit in Dengfend Power Group Co Ltd in China's central Henan province exploding due to "flooding water" entering the plant.
There are massive floods in China right now, with a river close to the plant exceeding the warning water level -- once that occurred, a factory wall was collapsed. Dengfeng Power Group Co Ltd shut the power off immediately, evacuated everyone out of the plant, but at 6AM local time water entered the high-temperature solution and then kaboom.
The plant itself houses an annual capacity of 60,000 tonnes of alloy rods, high-silicon aluminum alloy, and titanium products. The company says that no one was hurt or killed in the blast -- shockingly -- with the Chinese government performing a safety inspection afterward.
Really doesn't seem like a factory explosion, but rather a weapon being used -- maybe a deep underground military bunker being destroyed or something. Major flooding in China, Russia unveiling its next-gen S-500 missile defense system, Russia also unveiling its F-35 destroyer, China wanting to drop nuclear bombs on Japan if it defends Taiwan... I mean, things are really heating up right now.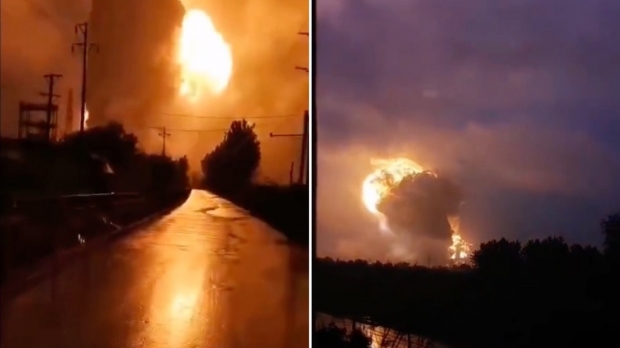 Related Tags