Quick and Dirty Quad-Core "Penryn" Bench
Tested @ 2.33GHz in some tests.

Published Sat, Aug 25 2007 1:38 PM CDT
|
Updated Tue, Nov 3 2020 12:39 PM CST
DailyTech are back at it again with some
quick and dirty benchmarks
of Intel's forthcoming Penryn quad-core CPU codenamed Yorkfield. Their spies are definitely better than ours at the moment.
This processor will release soon and looks much better on paper compared to the current Core 2 Kentsfield quad-core CPU. For starters, the new CPU has extra and faster L2 cache (2 x 6MB vs. 2 x 4MB), new SSE4 instruction set and also should consume less power considering its manufactured on a 45nm process which should be delight to overclockers worldwide.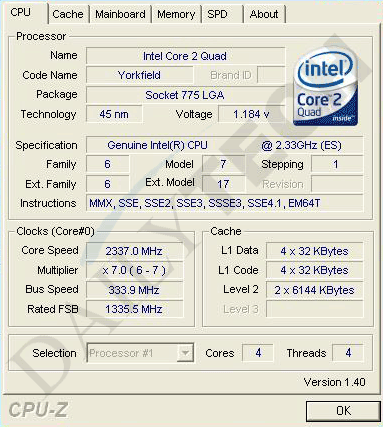 DailyTech ran some very basic benchmarks comparing both Yorkfield and Kentsfield (Core 2 Extreme QX6700) processors clocked at the same clock speed at 2.33GHz each with 1333 MHz front-side bus. Memory performance is slightly better and DivX video encoding time is reduced by around 8%.
Considering it's still unreleased and not even running on the upcoming X38 chipset, it's not a bad jump in performance. It's just a shame they couldn't include some other tests such as gaming to see how much those extra improvements such as added cache make difference or not.