CarTronics Taipei 2007 - Blinged Scooter
More bling than the Queen!

Published Sat, Aug 25 2007 8:24 AM CDT
|
Updated Tue, Nov 3 2020 12:39 PM CST
We just got back from checking out the all non-inspiring CarTronics Taipei 2007 show and we were less than impressed with what we saw.
Besides one or two fancy car computers mounted inside an equally impressive Mercedes, we didn't see much at all which took our interest. Lars might update you with some of the stuff he saw but don't expect too much. Only some basic GPS equipment which didn't knock our hats off at all - not that we were wearing any to be knocked off.
There were some decent rear vision mirrors with built-in GPS, digital TV and camera (which can be position at the back of your car for easier parking) but that was about the extent of it all.
Although, we did manage to find something half cool and not at all related to computers but we thought at least our Taiwanese readers will appreciate it! There is a company specializing in the art of blinging (
ed. Is that actually a word?
) up scooters - it would be sensational at Mardi Gras festival but just imagine actually riding the thing.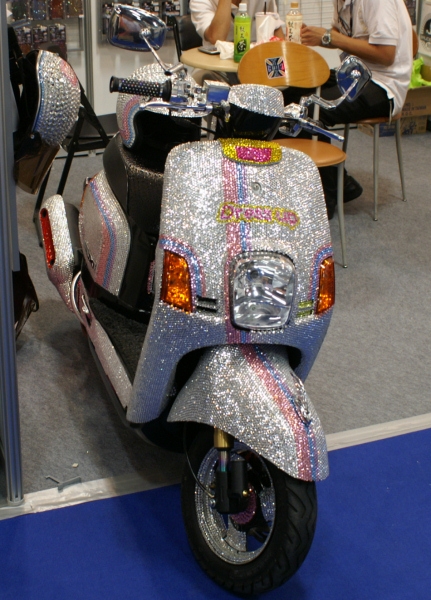 Well, on that note... enough said!!