Buffalo USB SSD drive ready and selling
But only in Japan so far.
Published Thu, Aug 9 2007 7:05 AM CDT
|
Updated Tue, Nov 3 2020 12:39 PM CST
Buffalo has released four external USB SSD drives with capacities of 8, 16, 24 and 56GB. The 56GB version would set you back US$750, with the 24GB version coming it at $336, the 16GB model at $234 and finally the 8GB one at $142. Although we dig SSD drives, this seems like a strange way of making the most out of them.
Buffalo has designed a fairly attractive drive enclosure for the SSD drives that measures 89 x 57 x 14 mm (H x W x D) and weighs in at just under 61g for the 56GB model. The drives are meant to be shock proof up to a drop of 2.5m, so dropping one of these off your desk shouldn't do any kind of damage to them.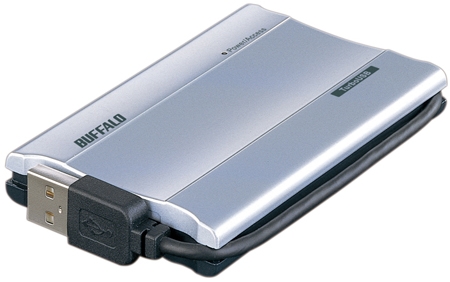 Buffalo has also integrated its Turbo USB interface to the SSD drives, which should speed up data transfers, but the USB 2.0 interface is most likely going to limit the potential of the SSD drive here. Anyone considering the 8GB model should take a look at a 8GB USB pen drive first, as you can pick up one of those for less than $142.
You can check out the official product page
here
but be warned, it's in Japanese.