Gigabyte X38 getting ready
Still figuring out the cooling.
Published Tue, Jul 31 2007 8:59 AM CDT
|
Updated Tue, Nov 3 2020 12:39 PM CST
Although Gigabyte was showing the GA-X38T-DQ6 at Computex this year, we've found out some more details about the board and Gigabyte is still working on the final details of the board to have it ready in time for the launch. As you might notice from our pictures, there's something lacking, namely the chipset cooling.
There's a good reason for this, as the version that was on display at Computex didn't feature the final cooling solution. It seems like the X38 chipset is running as hot as we've heard and it demands quite a good cooling solution to keep it cool. Gigabyte has also changed the VRM design on this boar and as you also can see from the picture, the board has most of the power regulation in a straight row.
This has also been done to make it easier to cool it and to design a cooling solution that takes up less space and makes it easier to use larger CPU coolers with the board. Other points of interest are the new type of BIOS chips that Gigabyte is using and the new rear I/O panel. Although Gigabyte has been using these BIOS chips for some time and other manufacturer are using them as well, this is the first time we've seen them in removable sockets. The BIOS chips are located between the two x16 PCI Express slots.
The rear I/O has changed as well and as you can see, Gigabyte is now fitting two eSATA ports to the rear of the board. The parallel port isn't gone though as you can see from the picture above, as Gigabyte supplies it on a cable so you can position it in a suitable spare slot in the back of your case. The GA-X38T-DQ6 is the DDR3 version and Gigabyte should have a DDR2 version that lacks the T in the model name.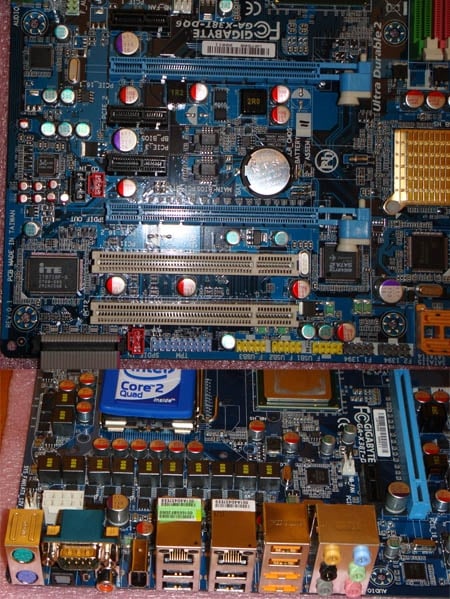 Now we just have to wait for Intel to launch the X38 chipset to see how good it really is, but we have high hopes for it.