Gyration introduces Ultra R4000 Remote
Rivalry to the Harmony.
Published
0 minutes & 52 seconds read time
A company by the name of "Gyration" have decided to go up against Logitech in the way of fancy HTPC remotes. Not unlike Logitech's Harmony range, the Ultra R4000 Remote from Gyration also sports a decent sized LCD screen and a huge mass of buttons to make sure you never have to get up or juggle it with any other devices.
The remote can also behave as a mouse, though not not a surface but rather the effortless air that surrounds you. We mentioned a few days ago about a
new type of mouse
from Logitech which uses this principle (dubbed the "MX Air Rechargeable Cordless Air Mouse"), but Gyration had already beaten them to the tech with an
air mouse of their own
which has been available for quite some time now.
SlashGear report
that the new Ultra R4000 Remote from Gyration will become available in the near future for $199.95.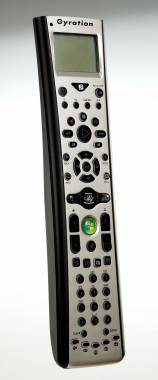 Logitech isn't the only one showing off a new HTPC remote these days. If you haven't heard of Gyration yet, you should check them out. I've been using on of their in-air mice for several years now in my living room and it's one of the best things I've bought. They've just announced their latest product which looks like it could force my old one into retirement.