New integrated graphics chipset from SiS
Core 2 Duo 1,333MHz support.
Published Tue, Jul 10 2007 3:24 AM CDT
|
Updated Mon, Oct 19 2020 8:08 PM CDT
SiS is going to have a new chipset with integrated graphics for the 1,333MHz FSB Core 2 Duo processors from Intel, the SiS 680SCE. The specifications are pretty basic, as this new chipset only supports single channel memory. It will feature SiS' new Mirage 4 graphics engine which is meant to have DX10 support, but with a single channel memory controller, we have to wonder how well this new graphics engine will perform.
The Mirage 4 does support HDMI with HDCP, which might make this an interesting platform for media center type applications. The chipset also supports a x16 PCI Express slot and four x4 PCI Express slots. Additionally it also supports up to three PCI slots, HD audio, SATA RAID, Gigabit Ethernet and up to 10 USB 2.0 ports.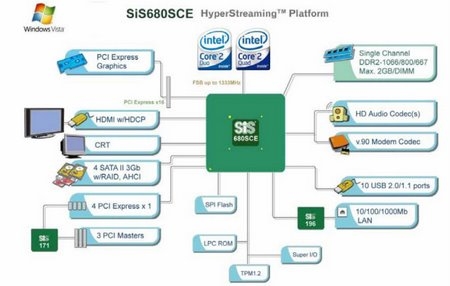 The advantage here is that it's a single chip solution, so it should allow for some very affordable motherboards. SiS might not have the best reputation in the chipset business, but it's a sensible budget option, especially as the rumors about VIA pulling out of the Intel chipset business just won't go away.
It will be interesting to see how well this new chipset performs when it arrives and how well it can compete against other integrated graphics solutions. For now it's the first DX10 part to appear, but it might just be the slowest one as well, because of that single channel memory controller.