Project Scarlett to use proprietary SSD tech to supercharge speeds
Microsoft's next-gen Project Scarlett Xbox console could use custom SSD tech for ultra-fast loading times.

Published Dec 9, 2019 5:14 PM CST
|
Updated Tue, Nov 3 2020 11:46 AM CST
Microsoft will apparently use a customized SSD storage solution to hit blazing-fast game loading speeds, arming developers with versatile power in the process.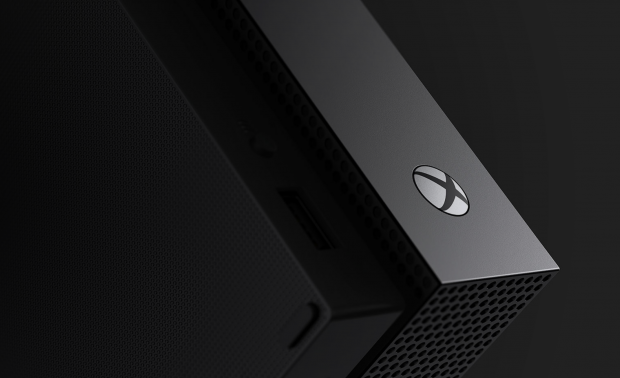 Next-gen consoles will use new SSDs alongside new GPU and CPU hardware to dramatically improve loading speeds (the PS5's SSD loaded Spider-Man in just 0.8 seconds). But that's not all the SSDs can do. Microsoft says the SSDs used in its new Project Scarlett duo of consoles lets developers use storage as a VRAM buffer, strongly hinting at a custom solution. Now sources say the next-gen Xboxes will indeed feature a unique storage design.
Project Scarlett's Anaconda and Lockhart systems will both use a proprietary NVMe SSD, sources tell WindowsCentral. This somewhat aligns with our recent predictions that next-gen consoles could use Optane-like memory cache acceleration tech, which prioritizes important data in a special storage cache and feeds it right into the CPU.
This tech will not only allow the CPU more direct access to data blocks like game textures, assets, and effects, but it can also recruit RAM to speed up data processing. This will give developers a massive arsenal of power and flexibility to use in their games.

Read Also: Next-gen Xbox Scarlett specs: 12TFLOPs, 16GB RAM, 3.5GHz Zen 2 CPU
Open-world games will be more robust as data processing is massively boosted by the CPU's direct access to data, leading to a more seamless experience as the system is constantly cycle-feeding itself the most important prioritized data for a particular scene or gameplay sequence.
Since consoles use a shared VRAM/DRAM memory pool (in this case, Project Scarlett's 16GB of GDDR6 memory), it's not unrealistic that the custom SSD tech could indeed use the SSD as a VRAM buffer.
Here's how Microsoft described Project Scarlett's SSD capabilities:
"We've created a new generation of SSD. We're actually using the SSD as virtual RAM. We're seeing more than 40x performance increases over the current generation," Microsoft said in the Project Scarlett E3 2019 reveal video.

"The combination of the SoC and the solid state drive are really what gives you a totally new experience."

"Now we can take all of that power and apply all of that back into the scene, and generate more life into that world and bring it to the gamer in a seamless way."
We don't know the specifics on Project Scarlett's new SSD design, or whether or not it's a simple OEM SSD that's been customized with software rather than hardware. But it certainly sounds like the system will use some sort of custom 3D XPoint memory solution is being used in tandem with cache acceleration.
Project Scarlett's new duo of consoles is due out Holiday 2020. Check below for more info:
Lockhart
1440p 60FPS

No disc drive

Super-fast SSD that can be used as VRAM

7nm AMD SoC w/ scaled-down 8-core, 16 thread Zen 2 CPU at 3.5GHZ and Navi GPU

Lower GDDR6 memory pool (Possibly 12GB)

~6-8 TFLOPs of power?

Aims to rival PS4 Pro/Replace Xbox One S

Full backward compatibility with all Xbox One games

Cheaper MSRP
Anaconda/Project Scarlett
4K 60FPS

Disc drive with 4K UHD playback

Super-fast SSD that can be used as VRAM

7nm AMD SoC with 8-core, 16 thread Zen 2 CPU at 3.5GHz and Navi GPU

16GB GDDR6 RAM

12 TFLOPs of power

4x as powerful as Xbox One X/aims to replace Xbox One X

Full backward compatibility with all Xbox One games

More expensive MSRP
Project Scarlett confirmed details:
8-core, 16-thread Zen 2 CPU

Navi GPU

Highly customized 7nm SoC from AMD

GDDR6 memory

4x as powerful as the Xbox One X's 6TFLOPs of perf

Can deliver up to 40x more performance than Xbox One in specific use cases

Adaptive sync supported

Super-fast SSD that can be used as VRAM

Supports 8K resolution (likely media playback)

120FPS gaming

Variable refresh rate

Raytracing confirmed with dedicated raytracing cores

Backward compatible with Xbox, Xbox 360, and Xbox One games

Compatible with Xbox One accessories
Project Scarlett coverage:
Related Tags