Intel patents OnLive-like controller, likely for cloud gaming
Intel patents a very basic-looking video games controller, likely to be used with Tencent's game streaming service.

Published Sun, Nov 24 2019 12:16 PM CST
|
Updated Tue, Nov 3 2020 11:46 AM CST
Back in 2018, Intel filed a patent for a video games controller that looks suspiciously like an OnLive controller. Now that patent has been published, giving some clues on the company's foray into cloud gaming.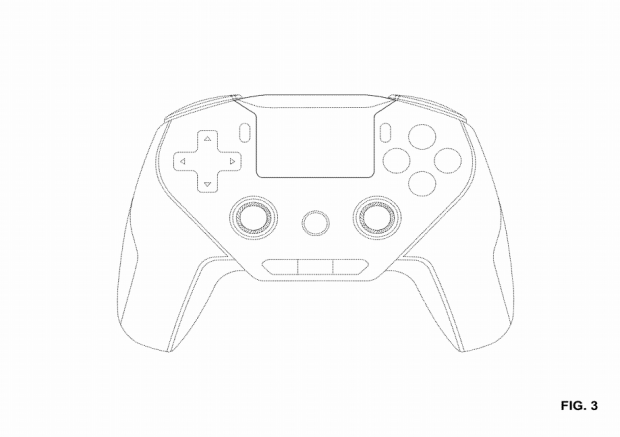 Intel's controller patent isn't particularly exciting. The patent is maddeningly vague and doesn't give actual details on the device's functionality, which is strange: Most patents have pages and pages detailing how the devices might actually be used. The patent only shows reference designs of the controller's chassis and buttons, strongly indicating it's focused on multimedia as well as gaming. It has a DualShock 4-like touchpad at the top, as well as very OnLine-esque multimedia buttons on the bottom, and doesn't look particularly ergonomic, somewhat resembling the old NVIDIA Shield TV controllers.
Intel currently has no plans to actually make its own game-streaming service (the company is mostly focused on enterprise hardware, not gaming services), but instead will use its potent Xeon and Iris Pro processors to power Tencent's new game-streaming service called Start for the Chinese market.
Tencent's streaming service is much like Stadia or Project xCloud, touting "gaming on any device." Expect the controller to be somewhat like Google Stadia's and interact with TV set top boxes, laptops/desktops, and mobile devices like tablets and smartphones. Backed by the billion-dollar might of Tencent, the Start service should have tons of Western games like Blizzard's Overwatch as well as League of Legends and even Path of Exile.
Tencent and Intel announced the cloud partnership in November 2018, roughly eight months after the patent was filed.
The new Intel controller is likely used with said streaming service, which should tie directly into Tencent's cloud platform ecosystem for seamless entertainment options.
It's odd to see Intel file such a patent and not Tencent, and I'm wondering if we'll actually see the controller actually release to Chinese consumers or not. Remember patents don't always mean we'll see a final product shipped in stores, and there's a chance nothing will actually come of it.
Intel's patent was originally filed in March 2018, and published in November 2019. It will be valid for the next 15 years.
Related Tags